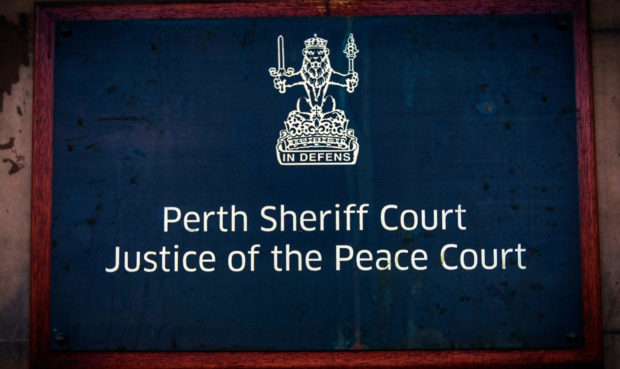 A blackmailer tried to force a married man to hand over cash after meeting him through the gay dating site Grindr.
Aaron Fleming threatened to expose the married man's secret tryst to his wife and family if he refused to pay him.
Fleming's identity has been kept secret until now because of a controversial ruling by a sheriff to award him lifelong anonymity.
He can now be exposed after an appeal against the anonymity ruling during a closed doors hearing at Perth Sheriff Court.
Fleming targeted the man after hooking up with him online and then discovering he had a wife and children.
The 26-year-old, from Perth, admitted trying to force his victim to hand over cash to avoid his covert relationship being exposed to friends and family.
He admitted attempting to extort £500 between December 8 and 11.
Fleming admitted acting in a manner intended to menace his victim by placing him in a state of fear or alarm or apprehension that he would be outed.
The victim was told his "sexual contact and communication with men would be exposed to his wife, family and friends" if he did not hand over cash.
Fleming created a profile on Grindr and used it during the course of last year to meet another man who was looking for a gay relationship.
It is understood Fleming arranged to meet the man and told him during a series of conversations that he had been having financial problems.
The man voluntarily offered him some money but Fleming found out he had been hiding his family life.
Fleming told the man if he did not start handing over cash his guilty secret would be revealed.
Solicitor Louisa Wade, for Fleming, said: "The root of it is that he has had a gambling addiction and has significant financial problems. He is trying to get help for himself."
Sheriff Michael Reekie granted an anonymity motion last month and deferred sentence for the preparation of background reports and a restriction of liberty order assessment on Fleming, who will be sentenced on Wednesday.
The sheriff explained: "Clearly the charge is a very serious one. Even though there are no previous convictions, I am told there are some issues underlying this offence."
Fleming was granted bail and special conditions were imposed upon him banning him from approaching or contacting his victim.
A freelance journalist formally challenged the ruling and persuaded Sheriff Reekie it was in the public interest to fully report Fleming's crime.
Crown counsel were called in to review the case on behalf of the Perth fiscal's office and concluded they had been wrong to try to hide Fleming's identity forever.
The court was told it would be highly unusual to let a convicted blackmailer keep his identity secret, and that naming him would not lead to identification of his victim.
During the hearing, depute fiscal Tina Dickie said the Crown could no longer object to the naming of Fleming.
She said the original decision had been taken in a misguided attempt to conceal the identity of his victim.
Sheriff Reekie agreed to remove the restriction on naming Fleming and said this would potentially help other Grindr users to expose the blackmailer's behaviour.