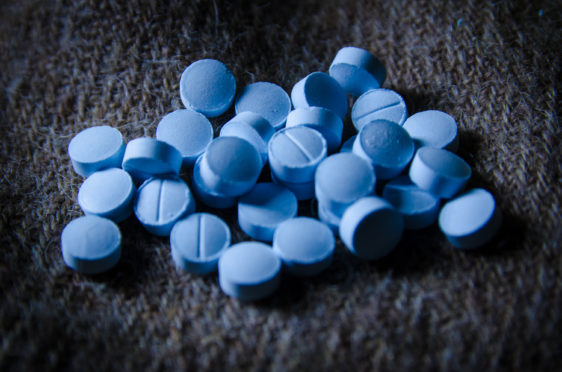 Prescribing Valium to heroin addicts could reduce the number of drug-related deaths in Dundee, it has been claimed.
The Scottish Drugs Forum was responding to the growing number of deaths involving etizolam, a street substitute for the sedative.
Figures compiled for the Dundee Drugs Commission show etizolam has become a significant factor in the city's attritional rate of drug-related deaths.
Etizolam was not implicated in any deaths until 2014, when it contribute to seven fatalities -nearly a fifth of the total number of deaths that year.
It was implicated in another seven deaths the following year but this rose to 20 in 2016, more than half the total.
That year diazepam, the generic name for Valium, was implicated in 11 deaths.
Street valium is thought to be responsible for many drug-related deaths across Scotland, as many users may not know the strength of the substance they are taking, often in conjunction with other substances such as heroin or alcohol.
Drugs like etizolam can suppress both the heart rate and breathing. A 1mg tablet is the equivalent of a 10mg Valium pill.
Austin Smith, policy officer at the Scottish Drugs Forum, said: "The use of benzodiazepines with heroin has been common in Scotland for many years.
"Previously, most of the benzodiazepines were Valium.  Now Valium has been almost completely replaced by Etizolam – a very similar drug.
"This is all imported – sometimes as bulk powder which is pressed into pills by criminal gangs here in Scotland.
"This 'street valium' is widely available and very cheap.  From a pharmaceutical point of view, etizolam and Valium are very similar.
"However,  there does seem to be an increase in the number of deaths involving benzodiazepines and Etizolam in particular.
"This may be because of an interaction between it and other drugs or because there are varying strengths in the pills sold in the street drug market or simply because people are using more because it is fairly freely available – and comparatively cheap.
"From a treatment point of view, we know that replacing street drugs with prescribed drugs can help stabilise people's use and make it far safer.  We need to get more people into treatment and improve the quality of that treatment."
An NHS Tayside spokeswoman said Valium, or diazepam, continues to be prescribed for addicts when suitable.
She said: "Diazepam continues to be prescribed as part of a structured detoxification programme to appropriate individuals."
A spokesperson for Dundee Health and Social Care Partnership said "Problematic substance use continues to be a concern in Dundee and improving the support for people who have problem drug use is a priority for us.
"Drug and alcohol treatment in Dundee is provided by the Integrated Substance Misuse Service (ISMS) and partner agencies.
"ISMS is available via a multidisciplinary direct-access drop-in assessment clinic which ensures that we can respond quickly and effectively to the needs of service users and start treatment as soon as possible. ISMS delivers prescribing interventions in line with UK guidelines.
"Integrated Substance Misuse Service for Dundee continues to work closely with partner agencies, including the Dundee Alcohol and Drug Partnership and Dundee Drugs Commission, to improve services and support for people with problem drug use.
"Early intervention is important to tackle the circumstances that lead to substance use, alongside the provision of co-ordinated, holistic health and social care to address the multiple needs of those at highest risk of drug-related injury or death."
There were 1,187 drug-related deaths in Scotland last year.
The Dundee Drugs Commission was set up to find ways to curb the number of fatalities in the city and recommended radical action to address the problem.
Proposals include introducing same-day prescribing of opiate substitute therapies like methadone.