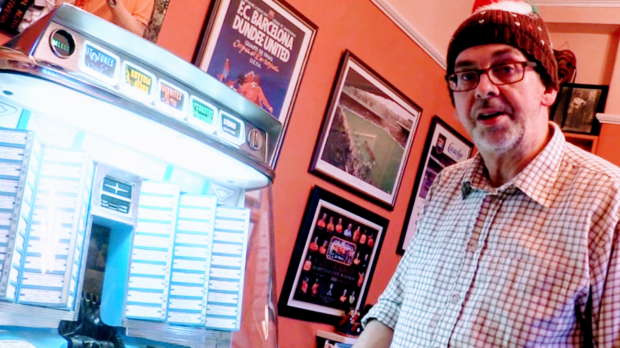 July 2019 was a sad time for music fans when much-loved Groucho's store owner Alastair 'Breeks' Brodie died aged 65. With his daughter Jenny's blessing, here we reproduce a feature from 2014 in which Breeks shares his favourite Christmas songs with The Courier — all played on his fascinating collection of vintage record players
---
Dundee lost one of its favourite sons this year when Alastair "Breeks" Brodie died at the age of 65.
The Groucho's music store owner had assumed legendary status in the city, and his death prompted hundreds of people to pay tribute and share stories of how Breeks and his famous shop had helped provide a soundtrack to their lives growing up or studying in Dundee.
Of course, no-one felt his loss more acutely than his family and friends and, as they prepare for their first Christmas without him, The Courier has unearthed a series of special videos we recorded with Breeks in 2014 in which he shared his favourite festive songs.
For Alastair's daughter Jenny, they provide a heartbreaking but cherished reminder of a devoted family man who so enjoyed being surrounded by loved ones — especially if there was a record player or jukebox in the room blasting out some favourite tunes.
Jenny said: "This year has been quite tough, as you would expect, for the family and for the Groucho's family. It is hard to realise that he hasn't just popped out for a moment. There are often things I think I must show him or ask him about. That's why it's such a gift to be able to see these videos again and for younger members of the family to be able to see them in the future. "
For Breeks' sister Gill Paterson, the videos are an important reminder that he would want people to remember the happy times they shared.
"It has brought some of us closer together than before," said Gill. "I know he wouldn't have wanted us to be too sad, as he made that clear when he was in hospital, but we miss him enormously."
Jenny says one of the most appreciated aspects of the huge public response to Breeks' death in July was how it revealed countless little stories of how Alastair had helped people day-to-day. That, she says, sums up her dad's outlook on life.
"It was humbling to see how much my dad meant to so many people," she said. "A lot has been said about the shop, but what was equally important was Breeks as a family man and loyal friend. He would do wee things for people, pass things on, make connections and share experiences. That was borne out by the messages of love and remembrance over the last few months. "
Gill added: "It was incredibly moving to read all the tributes in the press, Facebook, the mural, the 65th minute at Tannadice, his place in The Courier 100. Although I was often in tears reading them, it was great to know how loved and well thought of he was. I felt very proud of him and I've kept the press cuttings in a folder to pass down through the family."
As Christmas approaches, Jenny and Gill hope others will enjoy and gain comfort from hearing Breeks talking about music once again.
Gill said: "The first Christmas without a loved one is always difficult but we are gathering for a festive family meal soon, an occasion to share memories and raise a toast to Breeks."
Jenny said: "It's such a gift to be able to see these videos again and in some cases for younger ones, to see them in the future. I think that along with photos, cuttings and stories, they will help us to remember my dad as he was happiest, playing music on his collection of turntables and jukeboxes while educating us about it all.
"He was never selfish with the things he found — he wanted to share them with a wider audience. Hopefully, The Courier readers will enjoy seeing them again as well."
---
(Article first published: December 13 2014)
From the first time you hear Noddy Holder of Slade shouting out "It's Christmas" shortly after Hallowe'en, you know exactly what the soundtrack to your festive season will be.
Whether it is Wizzard wishing it could be Christmas every day or Chris Rea stuck on the same motorway again and again, every year sounds like the last, with only the latest X Factor winner to offer any real variety.
But Christmas should be a time of joy, not despair, which is why we teamed up with Alastair Brodie, owner of Dundee's legendary record store Groucho's, to give you a special Christmas treat.
For our 12 Days of Christmas vinyl countdown, Alastair, popularly known as Breeks, will offer up an alternative selection of the best Christmas songs.
Breeks invited us into his home where he played a dozen Christmas crackers on his amazing collection of vintage record players and jukeboxes.
From Louis Armstrong to Merle Haggard, Alastair's choices will entertain, dazzle and delight.
As a vinyl connoisseur, Breeks is delighted that records are making a comeback, with sales rising to an 18-year high in 2014.
He said: "You have to pick the right machine for the right record. There's no point playing modern vinyl on an old mono turntable. It will sound best on technology available at the time the record was made.
"A lot of record stores got rid of their vinyl but, because we are independent, we kept them. There seems to be a generation that missed out on vinyl but now we get a lot of teenagers coming in and seeming to turn their backs on downloads."
Alastair has run Groucho's since it opened in 1976 and owns dozens of turntables and several jukebokes and so has vast musical knowledge. But even he unearthed a few surprises while compiling his 12 Days of Christmas countdown.
"I didn't go too obscure. Some Christmas songs are a bit strange — people might want to track down Spike Milligan's version of Silent Night for proof — but when I price records at home if I see something I've never heard I'll have a listen, which is how I found Merle Haggard's Bobby Wants a Puppy Dog for Christmas," he said.
Day 1: The Happiest Little Christmas Tree (Nat King Cole)
On Day 1, Breeks opens with Nat King Cole's The Happiest Little Christmas Tree from 1959 played on a 1953 Plus-a-Gram model M.P.A. with Bush radio.
Breeks' daughter Jenny says:
It is great to see the Oor Wullie cards which my dad would make up every year, a sort of "trademark" of Breeks' Christmas. You could go to any friend's house and instantly spot Breeks' card. The first player is from the year he was born, 1953.
Day 2: Have Yourself a Merry Little Christmas (Frank Sinatra)
On the second day of our countdown Breeks gives us a bit of Old Blue Eyes himself with Frank Sinatra's Have Yourself a Merry Little Christmas from 1963 played on his Perth Radio Ltd radiogram from the mid-50s.
Alastair said: "You'd think it's from Perth but it's not — it's from London. Wonderful sound on this machine — lots of valves; just a good rich sound in a wooden box."
Jenny says:
The card with the empty bucket. This is a little how I've been feeling about Christmas this year. People talk about an empty chair, in his case, the office in the shop, or his record pricing chair at home, but for Christmas it would have to be a bucket. The words from Sinatra's classic "Your troubles will be out of sight" are true too as I know he isn't suffering any more.
Day 3: Jingle Bell Rock (Bobby Rydell & Chubby Checker)
On the third day of our countdown Breeks treats us to Bobby Rydell & Chubby Checker's rendition of Jingle Bell Rock from 1962 played on his 1961 Dansette Major Deluxe 21.
Alastair said: "It was given to me for my 60th birthday by a good friend of mine, which he had bought for a tenner from a car boot sale.
"Lovely machine. It has been given a bit of a cleaning up and it sounds wonderful."
Jenny says:
He must have liked this track as he shut up the whole time!
Day 4: Lonely Pup (in a Christmas Shop) (Adam Faith)
On the fourth day of our countdown Breeks goes with Adam Faith and Lonely Pup (in a Christmas Shop) from 1960 on his Indian HMV battery-operated portable from the late 50s.
Alastair said: "With a bit of help from John Barrie on production and it's been played on a record player, which is from the late 50s and is battery operated so you can take it anywhere.
"It's a fascinating machine. Never seen one like it before; never likely to see one like it again."
Day 5: White Christmas (The Drifters)
On Day 5 of our countdown, Breeks gives us The Drifters' version of White Christmas 1963 played on a Dansette Tempo from 1962.
Alastair said: "I bought it second hand in 1978 for £8 and it's gone to just about every record fair I've done at the Marryat Hall.
"It's fallen off the barra a few times. It survived and it's filled the Marryat Hall. Plenty people have heard it; plenty people have looked at it."
Jenny says:
This Dansette was omnipresent at the  record fairs. I did the fairs with my dad when I was a kid and young teenager. At the time it seemed sort of embarrassing (twin decks would have been more my thing then) but it allowed customers to hear rare records and drew attention to the stall. I think he was ahead of his time in seeing that folk would return to the old players. There was a Dansette graveyard of sorts in his office at home for spares and repairs.
Day 6: Frosty the Snowman (Leon Redbone and Dr John)
On the sixth day of our countdown, Breeks chooses Frosty the Snowman by Leon Redbone and Dr John from 1989 played on his Mettoy Playcraft Music Maker form 1973.
Alastair said: "Leon Redbone and Dr John — the perfect marriage."
The record player was actually designed for kids in the early 70s.
"You could imagine getting that on Christmas Day, opening it up and being able to play your T. Rex and Slade singles on it.
"Battery-operated, you can take it anywhere. Lovely sound; lovely wee machine."
Jenny says:
Frosty the Snowman was a firm favourite around the house at Christmas, but even more so Phil Spector's Christmas album. It would be put on and played on Christmas Day. While the presents were being opened, my dad would start one of his famous lists. The list of who and what of presents so that proper thank yous could be given. To my shame, I was never a good thank you writer, despite his best intentions.
Day 7: Bobby Wants a Puppy Dog for Christmas (Merle Haggard)
On the seventh day of our countdown Breeks lines up Bobby Wants a Puppy Dog for Christmas by country legend Merle Haggard.
Alastair said: "This is being played on a 1963 Dansette Bermuda in DFC colours and this machine is totally farm fresh.
"Never been restored, it's been sitting in a garage or attic for the last 20 or 30 years but it plays perfectly.
"The Dansette Bermuda was probably considered the most stylish of the Dansettes from the early 60s."
Day 8: Here is My Heart for Christmas (Louis Armstrong)
On the eighth day of our countdown Breeks opts for Louis Armstrong's Here is My Heart for Christmas from 1970 played on his 1958 Rock Ola Music Vendor jukebox.
Alastair said: "Beautiful sound; lovely valve amplifier.
"Jukeboxes… if you can get one just go out and buy it because they always keep their value and they're such a great thing to have at parties."
Jenny says:
I remember this jukebox so well. It stood in the dining room at Albany Terrace, having replaced a 1970s Rock-Ola. Jukebox "upgrades" actually go back in age to machines where you can see the records being selected and played. Another favourite machine was the Rotamint puggy in the kitchen with the brass thruppenny bits. It was always well used by visitors — definitely simpler times with simpler pleasures.
Day 9: Merry Christmas Baby (Charles Brown)
On the ninth day of our countdown Breeks is giving us Charles Brown's Merry Christmas Baby from 1956 played on a Dansette Conquest Auto from 1959.
Alastair said: "A reissue of the 1956 song, and it came out on an NME cassette some time in the 1980s."
Breeks said the Conquest is one of the larger Dansette models.
"It's a beast of a thing. Great sound though."
Day 10: Sleigh Ride (The Ventures)
On the tenth day of our countdown, Breeks plays us The Ventures' Sleigh Ride.
Alastair said: "A nice instrumental from 1965."
Breeks is playing the track on his 1956 Bal-Ami G80 jukebox.
"It used to be in the City Arcade at the back of the Caird Hall back in the day.
"I do like my jukeboxes. If you ever get the chance to buy one, go for it."
Jenny says:
To hear my dad say he was going to have a Coke shouldn't be a surprise — a big fan of the fizzy stuff, as his dentist would have been able to tell you. Lovely track of 60s surf. It's emotional to hear him predict that the jukebox would outlive him but, as with most of his collection, they are sturdy machines with proper build quality that could outlive us all.
Day 11: Jingle Bells (The Diplomat Orchestra)
On the eleventh day of our countdown, Breeks takes us right back with another instrument track.
Breeks is treating us to festive favourite Jingle Bells by the Diplomat Orchestra played on his HMV model 511 gramophone from 1927.
Jenny says:
I think this is a gramophone which has moved around with my dad for many years. It was in the house in Springfield where the cabinet acted as extra storage. My parents, as tradition would have it,  had stored the top tier of their wedding cake there. It languished forgotten until the day yours truly aged around 5 found it and got myself a slice or two. It tasted fine and none of the predicted ailments befell me.
Day 12: Blue Christmas (Elvis Presley)
Alastair is giving us the king of rock n' roll himself Elvis Presley with his classic 1957 festive track Blue Christmas.
Breeks is playing Elvis on his Rock Ola Tempo 2 jukebox from 1960.
Alastair said: "Keep the best 'til last. For anyone who remembers that far back, this was the model they used to use for Jukebox Jury back in the 60s."
Jenny says:
This is the most moving of the videos for me. My dad is wishing us to not have a "blue Christmas" as Elvis tells us "I'll have a blue Christmas without you". He was a happy, sociable person full of stories opinions and knowledge. He was not a religious man, but he believed in love and kindness. It's lovely to hear him say at the end "Have a good Christmas" just one more time.
Christmas Day Bonus: The Christmas Song (Ella Fitzgerald)
We've had our 12 songs for Christmas but, since it is the season for giving, Breeks has decided to give us an extra bonus track for Christmas Day.
Alastair is finishing off his festive countdown with Ella Fitzgerald and The Christmas Song from 1959 played on his Ferguson radiogram from 1957.
Breeks said: "Chestnuts roasting on an open fire, what could be nicer?"
Alastair picked up the record player from a charity shop near the Wellgate.
"The poor thing was just lying there unwanted and unloved needing looked after.
"But now it sits pride of place in our living room and gets played regularly."
Jenny says:
A real classy number by Ella Fitzgerald. Although, my stepsister Joanna reminded me of a well keep secret — What was the most perfect Christmas song in Breeks' opinion? All I want for Christmas is You by Mariah Carey. Who would have thought??