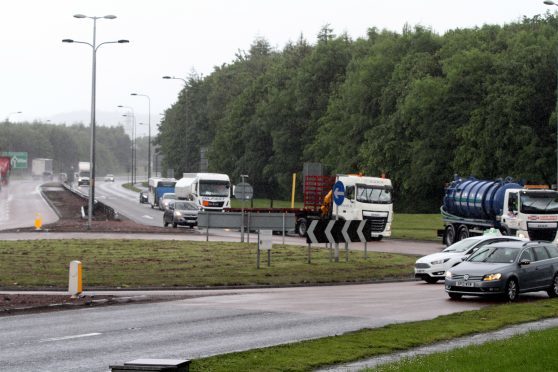 Work on life-saving upgrades to the Swallow Roundabout on the edge of Dundee have yet to start, six months after safety concerns were raised.
Western Gateway housing developer Springfield Properties was supposed to have completed work on the junction on the Dundee and Perthshire border after building 270 homes in the nearby development but the upgrades, including traffic lights, remain on ice.
In March the developer said safety upgrades, including installing traffic lights, had been delayed due to a land ownership issue.
This week, councillors heard a deal to transfer ownership of a small piece of land to the north of the roundabout is "close to a settlement".
But Scottish Labour Lochee councillor Michael Marra fears there will be a fatal accident at the roundabout if work is not completed soon.
At a Dundee City Council city development committee meeting on Monday night, he said: "I get continuous complaints from residents that someone is going to lose their life on that roundabout as traffic increases at the Western Gateway.
"We are awaiting the installation of the traffic signalling to ensure that safety measures are in place and also to make sure there is pedestrian access to the Western Gateway, of which there is none at the moment.
"The community is greatly frustrated at how long it has taken and concerned.
"We don't want to see work [on Gateway houses] stopping because it brings jobs to the city but we need to see this safety work completed, the sooner the better."
The land is listed on the Dundee City Council website as belonging to the "Residue of Invergowrie Estate – Trustees of Christopher Clayhills Henderson Lifevent Trust".
Gregor Hamilton, the council's head of planning and economic development, said: "We have been keeping close contact with the developer, Springfield Properties, in relation to negotiations they are undertaking with the trust which owns a small area of land at Swallow Roundabout.
"We are advised that progress is being made and we understand they are close to being able to agree a settlement.
"We are obviously at the same time monitoring the progress with development on the Western Gateway and making the developer aware of the obligation to improve the junction.
"We are hopeful that a solution is close to being found and that the work is going on in the background to allow construction work to start as soon as the land ownership issue is resolved."