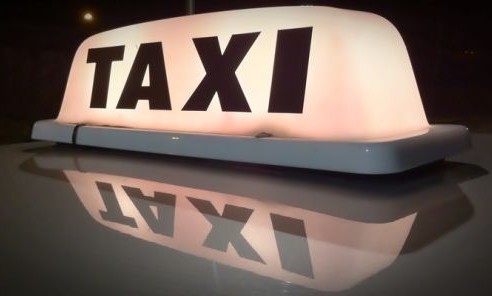 Frustrated taxi drivers have said police should carry out checks on their vehicles throughout the year — not just at Christmas.
Police Scotland officers and members of the Driver and Vehicles Standards Agency carried out checks on taxis outside the railway station and in Nethergate on Friday afternoon.
However, drivers claim by choosing to do the checks at peak times, police caused lengthy queues and disrupted services for passengers.
One driver also claimed this meant passengers disembarking from the London train were unable to get taxis because drivers avoided the ranks where checks were being carried out.
The enforcement checks are to ensure Taxi Operators and Drivers are maintaining their vehicles to the standard required.
Dundee Taxi Association chairman Graeme Stephen said police rarely carry out checks on taxis during other, less busy, times of the year.
"I think it's something police do at this time to assure people taxis are safe," he said.
"But obviously it is going to cause some disruption because the taxis have to get checked, although I don't think it takes too long.
"But they should be checking them at other times of the year as well.
"It's unfair that it happens at busy times. There are other times when taxis are sitting on ranks not moving for three-quarters of an hour.
"I think they should check taxis all year round, not just at this time of year."
One frustrated taxi driver said: "Why did police Scotland and VOSA decide to do taxi checks at the busiest taxi ranks in Dundee at peak times and the Nethergate at 4.30pm?
"It's hard enough making a living the rest of the year on a taxi, but when a chance to make a bit more money with Christmas shoppers this only leads to frustration for customers and taxi drivers with both ranks being almost empty while checks were carried out."
Inspector Ray Cuthill from the Tayside Division's Road Policing Unit said: "Police Scotland regularly works with organisations such as the Driver and Vehicle Standards Agency (DVSA) to ensure that professional drivers and their vehicles adhere to roadworthiness standards and all of this is done with the overall aim of improving road safety and keeping the public safe.
"These checks are carried out throughout the year and as we approach a particularly busy time where demand is high and unscrupulous operators will try to take advantage of the increase in demand it is important that these checks continue.
"The joint operation carried out by Tayside Divisional Road Policing Unit, Divisional Licensing Unit and DVSA over a number of days in December highlights the importance of such initiatives to promote road safety after a number of taxis and private hire vehicles were found to have vehicle defaults including light and tyre defects as well as no insurance.
"Taxis and private hire vehicles must adhere to roadworthy standards as a condition of their licence and we are pleased that the majority of professional drivers adhere to these standards.
"However, when offences are identified, it is right that appropriate action is taken and this can include the use of education or warnings as well as fixed penalty notices and reporting to the Procurator Fiscal."