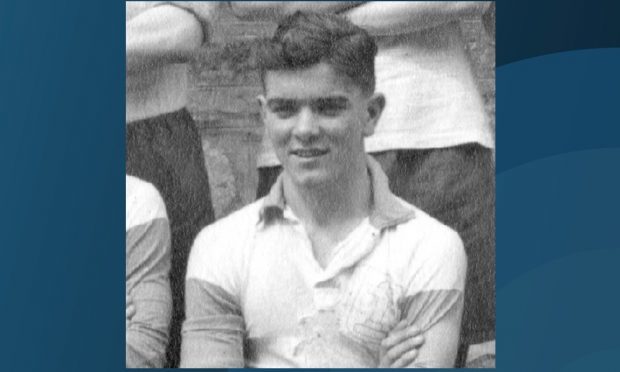 A former Dundee United player, known as the 'soccer juggler' has died at the age of 81 after a long illness.
Jimmy Reid had two spells at Tannadice and made 76 appearances, scoring 27 goals, between his debut in March 1955 and his return in 1960. The Dundee-born player became a shopkeeper after he retired from the game, opening a shop in the town's Seagate area.
He also had spells at Bury, Stockport County and East Fife during his career.
Jimmy died peacefully in Ballumbie Court Care Home on Monday following a long battle with dementia.
An old-fashioned inside forward, Jimmy was 5 ft 4 and weighed just over 10 stone when he was signed at 18 years old from St Josephs by the then-Second Division club.
A skilful ball player who was brought up at 63 Helmsdale Avenue, he was described by Dundee FC legend turned Courier sportswriter Tommy Gallacher as having a "little touch of cheek which marks the classy player" and "a personality."
He trained continuously throughout the summer months and his dedication paid off when he caught the eye of English clubs by scoring 16 goals for United during the first half of season 1956-57.
He moved to Bury in January 1957 in a swap deal, where he tested himself against the likes of England and Fulham captain Johnny Haynes. He met his future wife Freda in a Bury dance hall.
He later moved to Stockport County, before returning to Tannadice for the 1959-60 season. He then appeared for East Fife and junior sides, before finally concentrating on his Seagate store.
Daughter Tracy said he was never happier than when he was haggling over a deal with generations of Dundonians, many of whom he counted as friends and not customers.
Schoolteacher Tracy, who taught at Carnoustie High School before moving to Greater Manchester, said: "He was a real Dundee character known by almost everybody from Provosts to street cleaners – whom he treated exactly the same way.
"Going to Jimmy Reids Dundee shop in the Seagate was an institution for people of all ages, for almost fifty years. He will be sadly missed by a great many Dundonians, and of course all his family."
He was predeceased by his wife Freda and brothers Martin, Tommy, and Peter and sister Margaret, and left daughter Tracy, grandchildren Neil, Suzanne and Scott.
His funeral will be held at St Columba's, Kirkton on October 17 at 10am followed by a burial service at Balgay at approximately 11.15.