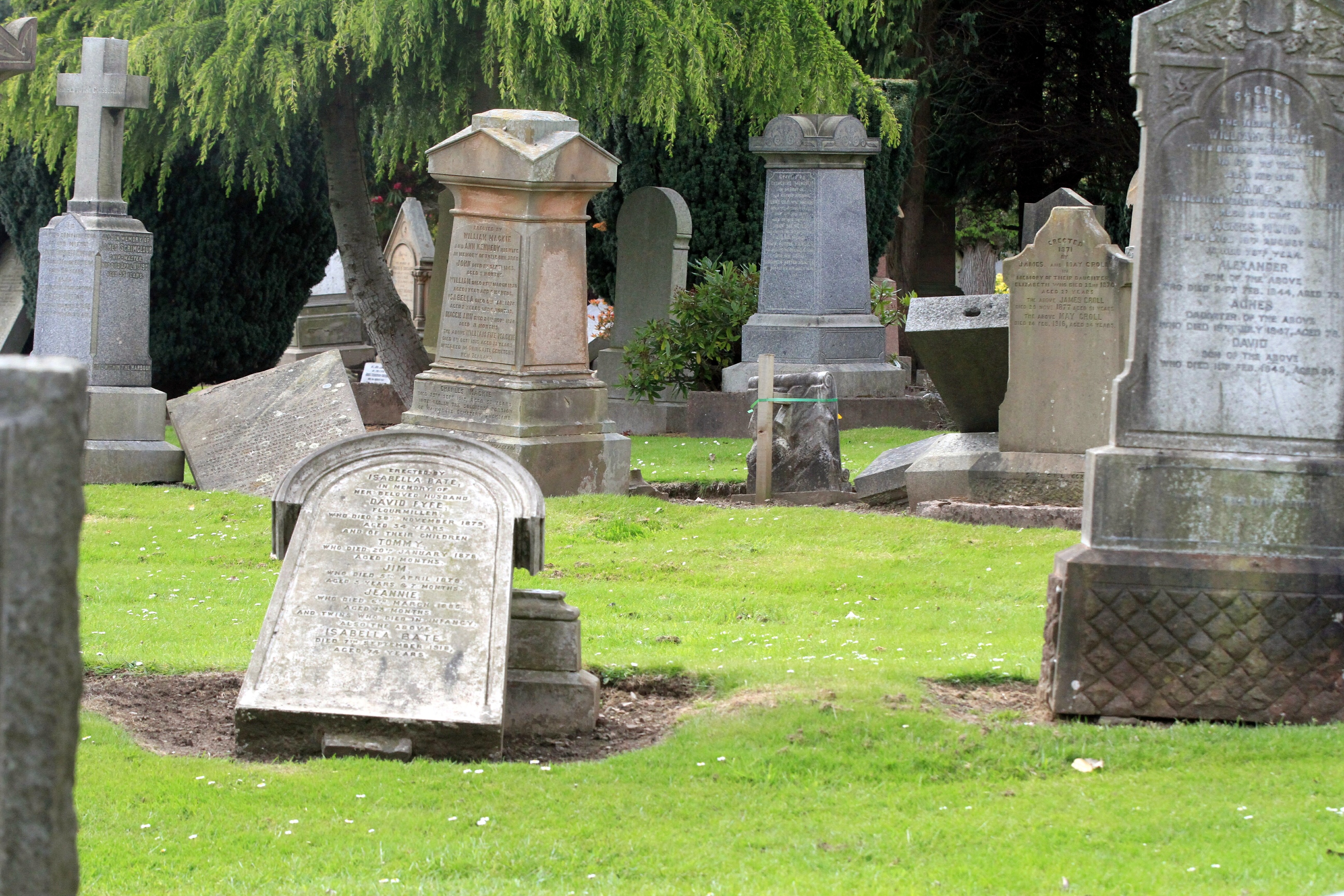 Thousands of headstones have been repaired in Dundee graveyards following safety checks by the city council.
An average of 178  memorials have had to be repaired each year since the council began a comprehensive health and safety study of the city's graveyards in 2003.
Around 1500 are tested each year with many of the headstones deemed a possible danger to the public.
The council attempts to contact relatives of the deceased if a memorial needs repaired, however this is not always possible.
Neighbourhood Services Convener Councillor Kevin Cordell described repairs as a "sensitive" issue but one that was vital to ensure public safety.
He said: "The council has a duty of care to ensure that our cemeteries are a safe place to visit and pay respects.
"As such, the council works hard to help ensure headstones are safe throughout the city's cemeteries.
"There is an ongoing programme of inspections in our cemeteries and we take action when it is needed.
"The council works very hard to try and contact families if we have any concerns about their headstones.
"We always deal with these issues as sensitively as possible. However, given the age it is not always possible to trace any living relatives.
"We make sure that when we can get in touch with families, they are made aware of a small grant scheme that is available to help preserve the stones."
Councils across the UK have been urged to increase safety checks on gravestones after a loose headstone crushed eight-year-old Ciaran Williamson in Glasgow in May 2015.
An inquest into the boy's death heard the stone was "so perilously balanced" that "even a strong gust of wind" could have blown it over.
Since Dundee City Council's programme began, the authority has spent around £500,000 on repairs such as reinforcing stability of headstones through concrete raft foundations.
Fraser Macpherson, councillor for the West End, which includes one of Dundee's largest graveyards, Balgay Cemetery, said public safety was of the utmost importance.
He said: "I would commend the council for their proactive approach over the last 15 years or so.
"The council has undertaken a number of necessary repairs and safety checks on graveyards with Balgay being one of these.
"It is vitally important to ensure these are done, particularly on the backdrop of the fatality in Glasgow.
"The weight of some gravestones are extremely heavy and can cause severe injury or even death.
"It is a significance expense it has to be said but I believe all councillors would agree that it is money well spent.
"Public safety comes first. Many of the gravestones have remained for a number of years and they must be checked regularly."