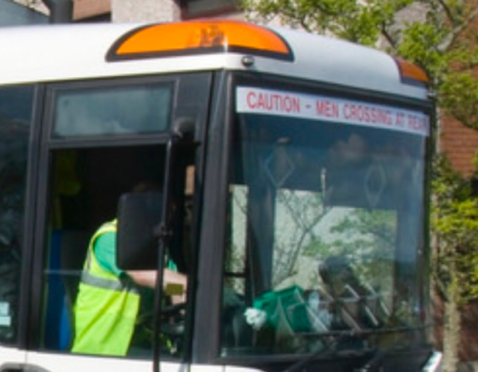 The council has vowed to update the city's bin lorry fleet after an eagle-eyed resident spotted an "archaic" sign plastered to one of their vehicle's fronts.
Dance business owner Laura Rehman was walking down Buttars Loan when she noticed a young woman council worker sitting in the front of a recycling truck.
What struck Laura most about the sight, she said, was the large sign adorned across the windscreen warning people there are "men working at rear".
Yo @DundeeCouncil noticed this bin lorry turning into my street , and the warning on the windshield ⚠️ caution men crossing at rear⚠️ Guess who was sitting in the lorry ???? , a WOMAN We really still doing this 2018 ??‍♀️ let's catch up #dundee pic.twitter.com/vqujpPcGTP

— Laura Loo (@Laura_dances) August 7, 2018
Taking to social media to ask the council why they assumed all of their employees would be men, she said: "Are we really still doing this in 2018?"
The council has now committed to changing the signs. It said this would be of minimal cost to the public purse.
Laura, who is the director of Dundee dance and sound studio The Launch Pad, said she was surprised the council responded so promptly, pledging to change the signs as quickly as they could.
She said: "The lorry was coming down Buttars Loan and sat right in the front seat was a girl.
"Above her was the sign, 'men working at rear' and I just thought it was a bit archaic.
"She is obviously one of the workers who would be out working and I just think it should say 'staff' instead of men.
"To be honest, I didn't expect the council to respond, usually tweets are not answered when you are asking other questions – like when the schools were supposed to be closed with the snow.
You are absolutely right! Thank you for your feedback, we've taken this on board and will be getting this changed. #TeamDundee

— Dundee City Council (@DundeeCouncil) August 8, 2018
"I'm pleased the council are going to change the signs and in general changing things like this.
"It is 2018 and to suggest men and woman are only suitable for some types of work is just archaic.
"Signs like these should be changed and the council should be the ones to lead the way."
In May last year the council approved measures which changed "gender-biased" titles including spokesman and chairman to their gender-neutral equivalents.
A Dundee City Council spokesperson said:  "We have made a commitment to changing the signs on the bin lorries.
"The cost will be minimal and it may take a few months for all the changes to be made.
"This is in line with our commitment to ensuring equality across the council."