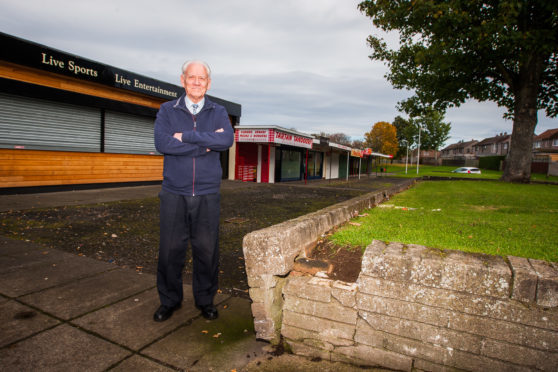 Dundee is in the throes of teenage violence and disorder due to lack of on-the-ground policing, a community leader has claimed.
On Monday, the Courier reported that a 15-year-old boy has been charged in connection with a major fire that ripped through Braeview Academy.
Meanwhile, at the end of September a football player and coach were injured when a large gang of youths attacked them at a training session on the North East campus.
And in Fintry, a play park suffered damage in the latest in a string of recent incidents of vandalism.
Ron Neave, chairman of Fintry Community Council, said there has been a "break-down" in the relationship between police and communities.
He added: "Years ago, there were community liaison officers out and about, identifying the trouble makers.
"You used to see police walking around and that did deter people.
"It's almost always a minority of youths causing the problems — often there are ring-leaders who egg the others on and the police spoke to them and built up relationships that helped to prevent disorder.
"Now that's mostly gone. You call 101 and an officer from another area comes hours after the trouble, by which time it's too late.
"We're seeing a return to gang warfare and youth violence, and when we bring this up with the police we're constantly told the same — that they don't have enough resources."
Ron added that parents also needed to start taking responsibility for what their children got up to in in the streets.
Dundee local area commander chief inspector Nicola Russell said that police do carry out high visibility patrols.
She explained: "It is understandable after some recent events that communities in the north-east of the city have been concerned regarding incidents of anti-social behaviour.
"We have dedicated community policing teams across the city that deploy in vehicles, on foot and are also cycle trained.
"In terms of anti-social behaviour, we are working with partners Anti-Social Behaviour Team, wardens, Scottish Fire and Rescue Service  and others to educate, prevent and detect these issues.
"We will continue to conduct reassurance and high visibility patrols and provide inputs to schools and other education facilities.
"I would encourage residents and businesses to report any anti-social behaviour or disorder to Police Scotland on 101.
"Also, if anyone has any information they can provide us regarding persons responsible for anti-social behaviour, this can be given anonymously through Crime Stoppers on 0800 555 111."