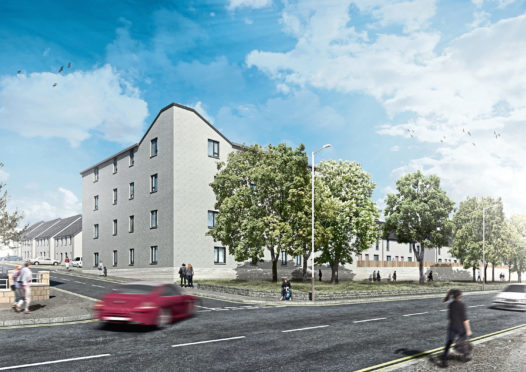 Plans to build 57 new affordable homes at the former Maxwelltown Works in Dundee have been recommended for approval by council bosses.
Caledonia Housing Association and Cullross Limited submitted a joint planning application earlier this year to transform the derelict site on Alexander Street into a mixture of rented and low cost homes.
The proposed scheme, designed by JMA Architects, would see 41 new houses built on the site and a further 16 flats presented in a block, along with new roads, parking facilities and landscaping.
The designs will be put before councillors tonight for consideration but city planners have recommended they approve the plans subject to a number of conditions.
In his report to go before the committee, executive director of city development Robin Presswood said: "The application is for a contemporary development of 57 units comprising of 41 dwelling houses and 16 flats with associated roads, parking, footpaths and landscaping at Maxwelltown Works.
"The site is an allocated brownfield housing site in the local development plan. As the proposed number of residential units is more than 50, the proposals constitute a major planning application.
"The proposed development is in accordance with the development plan and is recommended for approval."
Hilltown residents called on the council last year to tackle fly-tipping and vandalism at the site of the former Maxwelltown Works, describing it as a "magnet" for trouble.
Cullross and Caledonia said they hoped the proposed development would dramatically transform the site.
Emma Garry, development director at Cullross Limited, said: "This is a site that we have tracked for a while and have been very keen to develop.
"We recently complete homes at the end of Alexander Street on Dens Road, so we know the area well and are keen to contribute in any way we can to the regeneration of Alexander Street.
"It's been a great team effort to put together the planning application and we hope now that the value of what we have put forward will be seen and that the proposals will be supported."
The recommendation for approval is subject to 21 planning conditions, including that details of the proposed finishing material should be submitted to the council before work starts.
Another condition states that street lighting and drainage plans must also be agreed in advance.
If approved, work will start on the site before the end of the year, with the new homes handed over to Caledonia by spring 2020.