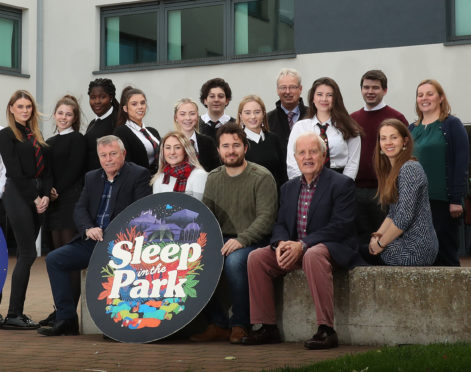 Two of Scotland's top philanthropists have once again dug deep and each donated £25,000 to fund places for young people to participate in Social Bite's Sleep in the Park fundraiser.
The event will see Dundee residents descend on Slessor Gardens on December 8 for a night under the stars. They will join thousands of people from Aberdeen, Edinburgh and Glasgow sleeping rough to raise money to tackle homelessness.
John Watson, founder of the Watson Foundation, and Bruce Wishart, managing director of Empteezy, have shown their support for the initiative by donating a combined £50,000 to allow 2,000 young people to take part.
Participants have to pay an initial £50 fundraising amount and commit to raising at least £50 more.
Social Bite hopes the event will raise a total of £4 million to tackle homelessness throughout Scotland, with the funds invested into a Housing First programme to bring more than800 people out of homelessness across five cities.
Mr Wishart said the initiative is a "great opportunity to involve young people in tackling homelessness which continues to be widespread across the country".
He added: "Sleep in the Park will give pupils a first-hand experience on the freezing conditions thousands of people are subject to every winter, and involve them in a major movement to eradicate homelessness for good."
Mr Watson, who made his fortune in the print industry, said: "The Watson Foundation is delighted to be involved in this outstanding initiative once again. The scourge of homelessness must be tackled as a priority for Scots everywhere."
The 2,000 donated places will be allocated on a first come, first served basis. Each city will feature its own live concert, with KT Tunstall, Amy Macdonald, Lulu, Kyle Falconer Frightened Rabbit and Eddi Reader all taking to the stage.
Josh Littlejohn, co-founder of Social Bite, said: "The generosity of these donors, and those already signed up, means that we have already raised over £1 million, and are another step closer to making a huge difference to homelessness in Scotland."