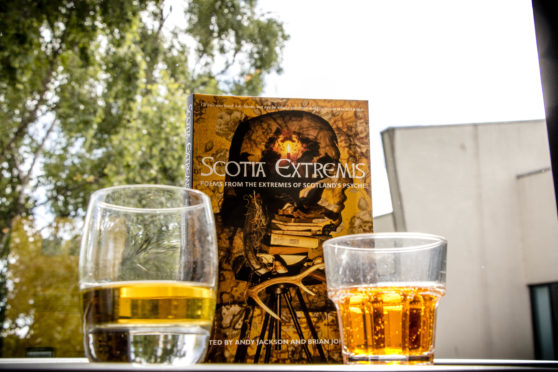 A series of Scottish cultural names have been pitted against one another as part of a new poetry publication by a Dundee librarian.
Laphroaig takes on Buckfast, Oor Wullie goes up against Black Bob, and Cullen skink slugs it out with Irn-Bru in Scotia Extremis — a collection of works by  more than 100 acclaimed Scottish poets.
Co-edited by Andy Jackson, a poet and medical librarian at Dundee University, and Brian Johnstone, founder of StAnza: Scotland's International Poetry Festival, the book will be officially launched tomorrow.
It features national Makar Jackie Kay and prominent poets such as Robert Crawford, Imtiaz Dharker, Douglas Dunn, Vicki Feaver and John Glenday.
The editors say their aim with the specially commissioned poems was to look beyoind the traditional stereotypes and bring to life the people, places and motifs that form the complex and contradictory soul of Scotland.
Andy said: "Scotland is instantly recognisable by tartan, haggis and figures like William Wallace, but you can probably find out more about our culture by looking at the wee things that make our nation so great. This book delves into that.
"By looking at Cullen skink and Irn Bru and Jimmy Shand alongside our more famous icons, we want our readers to get more of a feel for what is it like to live in and be Scottish."
One entry by John Quinn, hails Oor Wullie, currently in the national spotlight as part of his charity bucket trail.
An extract from it reads: "Spiked hair an exclamation forest
of porcupine points and proto-punk pride,
he's unpetrified blond joie de vivre,
chutzpah charm and childhood in black
dungarees worn by not Just William.
Sittting on a philosopher's bucket
with jesters Soapy Soutar, Fat Boab and
Wee Eck, he's boy King of Auchenshoogle."
Another poem by Dilys Rose lays out a love of the Scottish fish soup Cullen skink.
It reads "whit a braw and couthie appellation
that tickles outrels and, in locals froby,
boosts pride in their ain hame-branded cuisine".
The caffeinated tonic wine Buckfast, brewed by the monks of Buckfast Abbey and beloved by street drinkers, also features in the book in a poem by Claudia Daventry.
An exert reads: "The nasty Buckie bugs hur
– jist somehoo grabs an mugs hur
hur spellbound gluggin tips hur off hur feet.
It's changed wur life completely
ah've had ma tastebuds leave me
I never swallyd onyhin so sweet."
The launch of Scotia Extremis, published by Luath Press, will takes place from 6.30 – 7.30pm at Dundee Central Library, Wellgate on Thursday.