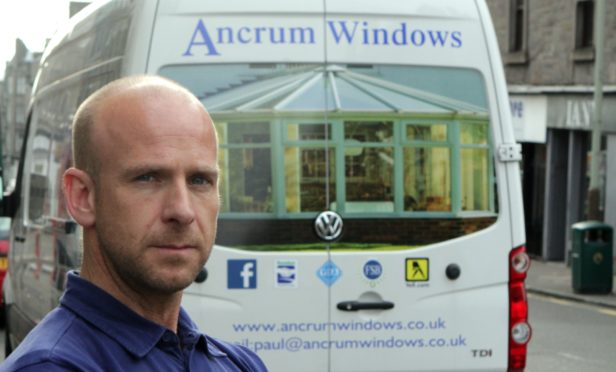 A building firm boss has been accused of taunting a cat lover who successfully sued him for £20,000 over poor workmanship – by renaming his failed business Katlady Services.
Woman shortchanged by Katlady Services closure given assurances from business minister
Paul Anderson, who ran Albert Street-based Ancrum Windows Ltd from January 2015, fell foul of customer Caron Scrimgeour over a botched conservatory, branded "the poorest I've seen in 30 years" by an expert.
Mr Anderson, 45, was ordered to pay Ms Scrimgeour £20,000 for breach of contract, loss and damage over the "unsafe" work, which then had to be completed by another contractor.
But the businessman was able to avoid paying out on the successful claim after scrapping the original firm. He had renamed the company just days earlier but insisted this was "just a family thing" and not related to Ms Scrimgeour's legal case.
The homeowner had agreed to pay Ancrum Windows Ltd £9,600 to fit a front door and Victorian-style conservatory to the rear of her home, a job which racked in around £1,500 in profit for Mr Anderson.
She found the company using Dundee City Council's trusted traders website in July 2016. The business, which lists Mr Anderson as its sole director, has since been removed from the scheme for "breaching terms".
Ms Scrimgeour told the Sun newspaper: "When I saw he changed the name to Katlady Services I couldn't believe it. My mum thought it was quite funny but I said, 'Do you realise what he's done? That's a direct mockery of me'.
"After taking him to court and winning he shuts up shop and mocks me by renaming the firm. On the very same day he registers a new business and carries on as if it never happened. His arrogance and ignorance is absolutely appalling."
Building consultant David McNutt, who was brought in to assess the work on Ms Scrimgeour's property, wrote in an official report "This is the poorest conservatory installation I have seen for 30 years.
"Not only is it not fit for purpose, it is unsafe and needs to be taken down."
Mr Anderson now runs two new businesses from the same Albert Street property – Ancrum Windows and Doors, and Ancrum Glazing.
He denied the renaming of his previous firm was linked to Ms Scrimgeour.
He said: "It wasn't aimed at her at all. I don't know why she would think that. I was at her house for around two or three days and didn't see any cats at all.
"She paid us for the job and it was only a few weeks later she said she wasn't happy with it. She didn't want us to go back and rectify it.
"I told her, if you can get the brickwork issues resolved, we can come back and re-do the conservatory for you.
"But she wanted the whole conservatory changed. I don't think she was happy with the design she chose in the first place."