Proudly lifting the Scottish Premier Division trophy, celebrating a historic moment in Dundee United's history.
This is the moment that will be captured forever in a statue of club legend Jim McLean — if the fundraising is successful.
Several fan clubs have come together as The Steering Group to raise an ambitious £70,000 to erect a bronze statue outside Tannadice of the club's most successful manager .
The campaign recently reached the half way mark.
And now a maquette, a miniature version used for reference, showing the final design has been unveiled.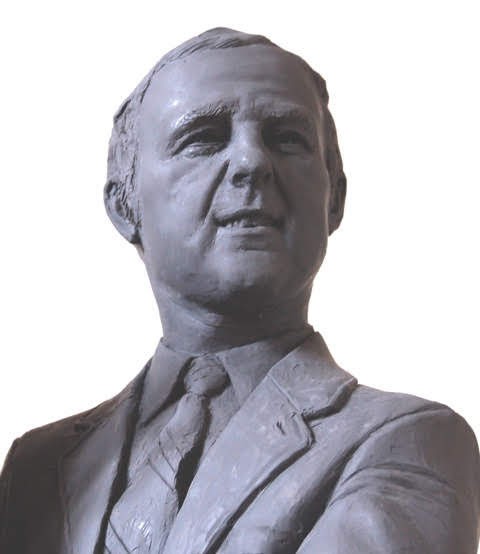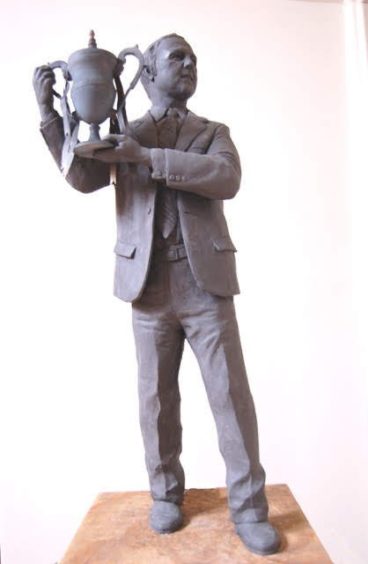 The clay miniature, which is about 20 inches in height, is in the process of being cast in bronze, which sculptor Alan Herriot will use to create the full version.
The Edinburgh-based artist said the full statue will be larger than life size, at about 6ft 3inches, and should take him about two or three months to complete.
The design is an amalgamation of two images of the manager and has been given the blessing of Jim McLean's family, as well as members of The Steering Group.
Detailed discussions, including which direction the lines in the tie would slant and whether the jacket should be double breasted, took place as various versions were drawn up.
Mr Herriot said: "The design has gone back and forth with the group and the family to make sure everyone is happy with it, which everyone seems to be now.
"The base and foundations still need to be sorted and worked out but I will then start to make the final version."
The Steering Group's George Haggarty said: "We are delighted to be able to show the finished design of the maquette, which is the basis for the statue to honour the club's greatest manager."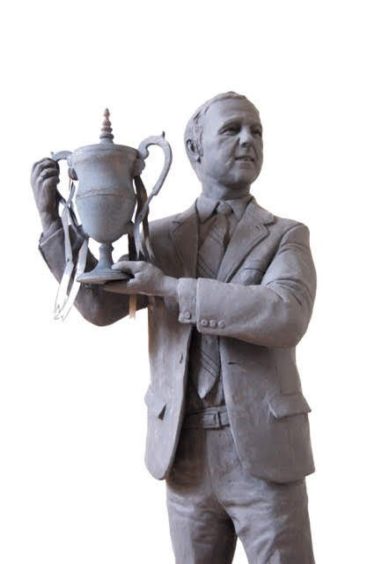 Despite the fundraiser reaching an important milestone, Mr Haggarty said the generosity of fans is still paramount to seeing the statue become a reality.
"We still need everyone's support to reach the next stage of the fundraiser," he said.
Donations to the campaign can be made on JustGiving.
Mr Haggarty said he hopes some fundraisers will be at this week's derby game to receive more donations, noting that McLean once played for Dundee FC and that he hopes Dens fans can also get behind the campaign.
Sir Alex Ferguson previously gave his support to the campaign, describing Jim McLean as "one of the greatest".