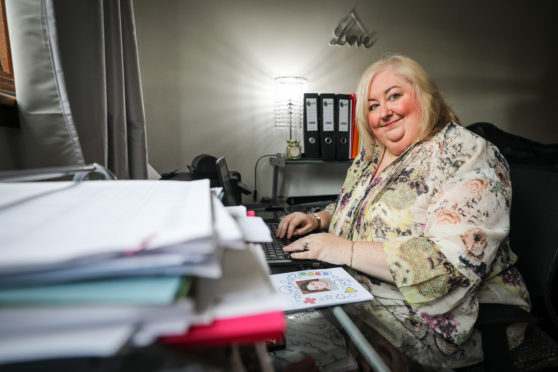 An Angus mum who has spent nine years campaigning against restraint and seclusion in schools has hit out at the Scottish Government's lack of action on the issue.
Beth Morrison, from Monifieth, started her campaign after her son Calum was injured while being restrained by staff at Kingspark School in Dundee.
Mrs Morrison has since spoken to hundreds of families across Scotland whose children have been subjected to the practice and attended the Scottish Parliament last week nearly five years after first launching a petition.
The Courier previously reported how the campaigner fears the number of children being restrained or secluded in Scottish schools could be far greater than those recorded by local authorities.
Mrs Morrison said she was "beyond disappointed" by the response of ministers after a report from Enable Scotland found at least 386 youngsters were subjected to the practice in one year – although 10 out of 32 council were unable to provide figures.
She said: "What I've learned is that you have to persevere. I cannot tell you how many times over the years I've cried buckets or held other parents and families as they've cried over the devastation and frustration they feel.
"This is a human rights scandal. With the publication of the In Safe Hands report this week, I'm now beginning to feel that momentum is building. But I want them to know I'm not going away.
"A number of the parents have told me their children have been restrained or secluded many times, some have been put in seclusion multiple times in one day.
"Here we are in 2019 and it's devastating for families to see what happened to their children has never been acted on.
"The parents are being ignored, the children are being ignored. There has been no accountability. Disappointed doesn't even begin to cover it."
Mrs Morrison, who appeared with children's commissioner Bruce Adamson, is calling for standalone statutory guidance, training for staff and mandatory recording and reporting to be introduced as soon as possible.
The campaigner has collated her own information on the number of incidents reported to her by families and claimed since 2017, 356 of the 430 children she is aware of having been restrained were injured during the process.
She praised Scottish Liberal Democrats leader Willie Rennie, who she said had played a major role in supporting her work.
Mr Rennie backed Mrs Morrison's assertion that the concerns of parents are being ignored.
He said: "Beth Morrison has fought a valiant campaign to force ministers to pay attention to this human rights crisis on their watch. Far too many parents and children have been ignored at the hands of this government."
The Scottish Government said it was unaware of the specific details of the cases referenced by Mrs Morrison but said it was "obviously concerning when inappropriate methods are being used on young people".
A spokeswoman said: "That is why national policy is very clear that physical intervention and seclusion should only ever be used as a last resort, when in the best interests of the young person, and never as a punishment.
"Every intervention should be carefully monitored and reviewed.  Any unlawful use of physical intervention or seclusion is completely unacceptable."