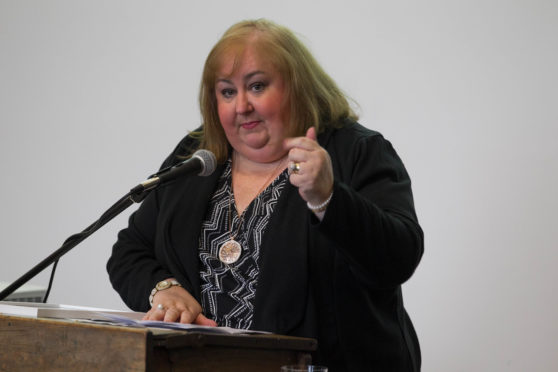 A leading Angus campaigner fears the number of children being restrained or secluded in Scottish schools could be far greater than those recorded by local authorities.
A new report from charity Enable Scotland found at least 386 youngsters were subjected to the practice in one year but officials noted the real figure could be far greater as 10 of 32 local authorities were unable to provide information.
The report states at least 2,674 instances of restraint and seclusion were recorded in 2017/18 and warned children are being put at risk of physical or mental harm by the "often-barbaric practices".
The charity has now launched its In Safe Hands? campaign, calling on the Scottish Government to issue guidance on the use of restraint in schools.
Beth Morrison, who launched her own nine-year campaign against restraint after her disabled son came home from Kingspark School with bruises, claimed her research indicates many more incidents are not being recorded.
She said: "What you've got is actually not a true reflection. I dispute what they have recorded and I dispute how the incidents have been recorded.
"I have spoken to hundreds of families and have asked them to fill in anonymous questionnaires. We also recommend they fill in subject access requests to find out what exactly has been recorded.
"Since June 2017, 82% of the families we have spoken to said the incident involving their child had not been recorded properly.
"If a child slips and falls in the playground it is recorded but if they are being physically restrained in this way, it isn't. I think that's really shocking."
The Enable Scotland report features testimony from Barbara Irvine on how her son Daniel Gourlay, who is on the autistic spectrum, has been repeatedly secluded or restrained – including once allegedly using handcuffs – since the age of five.
She said: "It's difficult enough to be a parent of a child with autism, but when you and your child are labelled as being 'difficult' people stop listening to you, they don't treat you like a human being, like you're worth anything. That's what happened to Daniel."
Jan Savage, Enable Scotland's director of external affairs, said: "With the support of parents and children who have been directly impacted by this often-barbaric practice, we are calling on the Scottish Government to urgently tackle the issue of restraint and seclusion through better guidance, greater support for teachers, and transparency and improved reporting from schools."
A Scottish Government spokesman said: "We are not familiar with the specific details of the case mentioned, but it is obviously concerning when such methods are applied to young people.
"That is why national guidance is very clear that physical intervention, restraint and supported isolation seclusion should only ever be used as a last resort, when in the best interests of the child and never for disciplinary purposes.
"Every intervention should be carefully monitored and reviewed – and any unlawful use of physical intervention and seclusion is completely unacceptable."