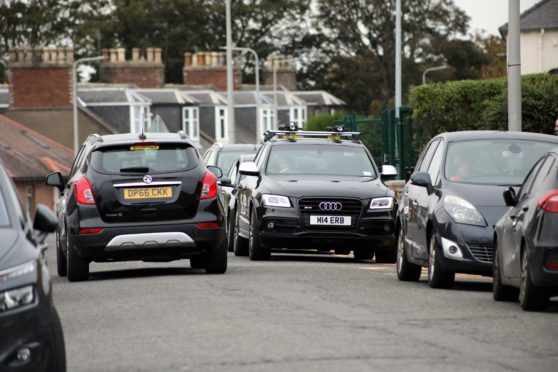 Angus parents fear selfish drivers have created "an accident waiting to happen" around an Angus primary school campus.
After recent moves to take HGVs away from the area of the £14m Abbey View facility in Arbroath, drivers abusing drop-off zones and ignoring parking restrictions have been criticised for putting youngsters at Hayshead and St Thomas primaries at risk.
The two primaries, with a combined roll of more than 500 children, moved into their new schools in the spring but parking issues have again arisen.
The issues have forced Hayshead Parent Council to make another plea to parents after complaints about cars being left in drop-off areas and chaotic scenes at the start and end of the school day.
Angus children and learning convener, Councillor Derek Wann said he would like to see more folk ditch the car for the school run to increase safety for youngsters.
"Walking, cycling or scooting to school are some of the simplest ways to reduce congestion and pollution around school gates.
"It is important that children and families choosing to walk to school feel safe to do so."
The Arboath East and Lunan Conservative said: "We recognise for some this isn't possible.
"If you do need to do the school run by car, please help us to make sure children and young people get to and from school safely and relieve congestion by planning their journeys and parking in a safe and considerate location.
"Where a school has a drop off/pick up area, please use this to drop off and pick up only.
"It is for us all to ensure that we act in a considerate manner when driving in any area but especially around a school. Please accept the rules set within school grounds for drop off and parking areas and help our school staff ensure the safety of all."
In August, councillors agreed a ban on any vehicles over 7.5 tonnes using busy Hayshead Road in a bid to make the area around the school safer.
The residential street is a popular route with truckers heading to farms on the north side of Arbroath and the village of Auchmithie.
They will now be redirected via Bearfauld Road off the A92, where a speed limit cut from 60 to 40mph will also be put in place as a further safety measure.
Parking problems are a regular issue for Angus schools and parent bodies and led to one Forfar primary taking the unusual step of closing the gates at peak times.
Whitehills school trialled a system which saw traffic banned from its car park from 8.45-9.15am and 3-3.30pm and led to "significant" safety improvements.
The primary was subsequently given the green light to police its own parking provision after councillors relaxed a planning condition requiring the school gates to stay open throughout the day.