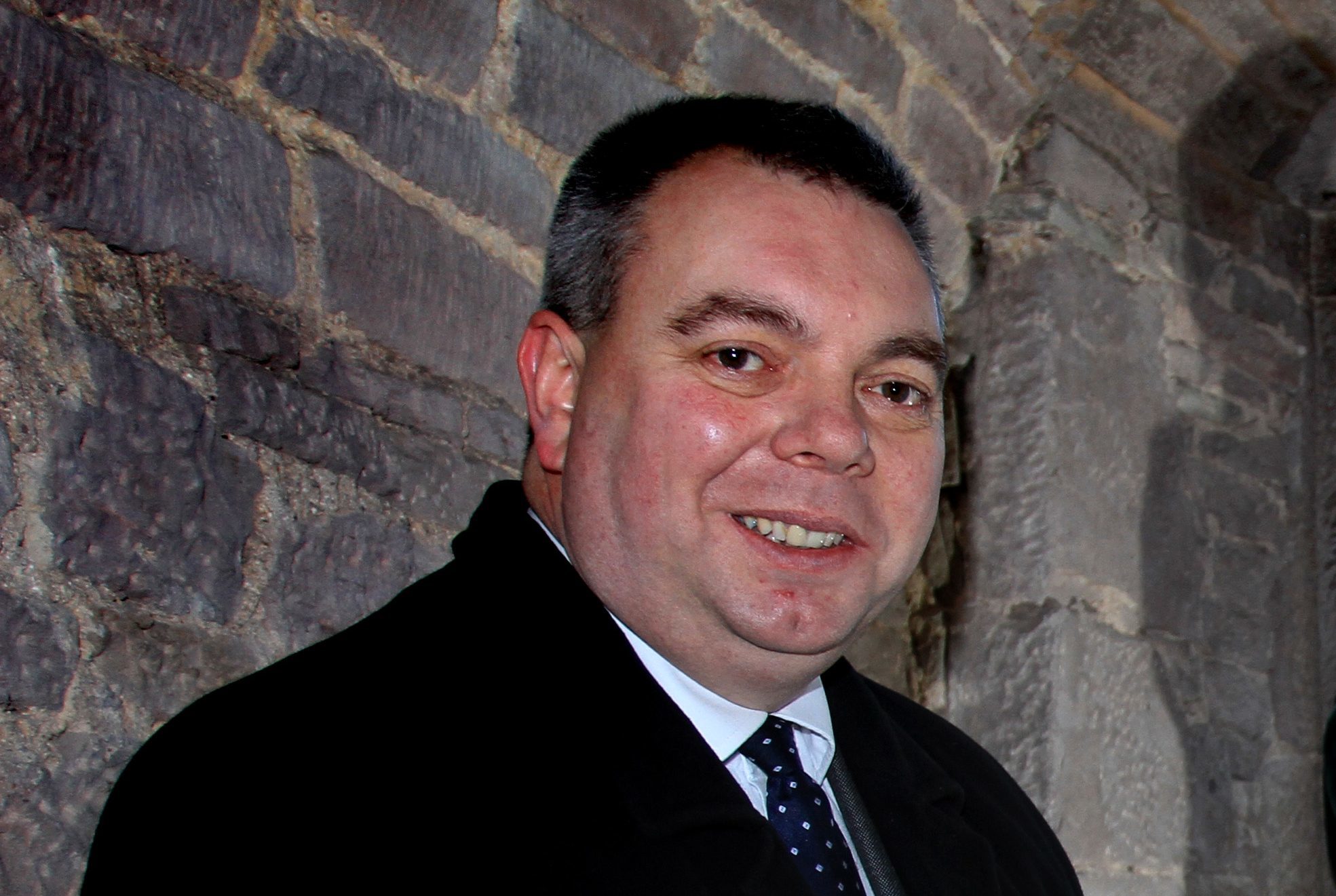 Alex Johnstone, the Scottish Conservative MSP who represented the North East of Scotland since the Scottish parliament began in 1999, has died after a short illness. He was 55.
Scottish Conservative leader Ruth Davidson led tributes to Mr Johnstone, saying he "embodied politics at its best".
"Alex's passing is an enormous loss for the Scottish Conservative party, for the Scottish Parliament, and for Scottish public life generally," she said.
"He was a big man with a big heart. He embodied politics at its best: trenchant in his views, always up for a political fight, but respected and admired by all sides of the political divide for his decency and generosity.
"The north east of Scotland could not have had a greater friend over the 17 years he served as their MSP. He was utterly devoted to championing the area.
"All our thoughts and prayers are now with Linda and their family.
"During his short illness, Alex was greatly touched by the many messages of goodwill he received from across the parliament.
"On behalf of the party, may I thank everybody who got in touch with Alex to pass on their thoughts. It meant a great deal to him."
Born in Kincardineshire in 1961 and educated at Mackie Academy in Stonehaven, Mr Johnstone spent his entire life in the north east of Scotland, where he built a successful career as a self-employed dairy and arable farmer.
Elected at the age of 38, he immediately brought his considerable experience in Scotland's rural economy to the parliament, initially as its first convener of the rural development committee.
In 2001, he was appointed as the Scottish Conservatives' chief whip and business manager, serving on the Parliament's business bureau.
In the last parliament, he served on the Parliament's welfare reform committee. He was also appointed the party's spokesman for infrastructure, housing and transport, a role he continued after May's election.
Outside of politics, Mr Johnstone was a devoted husband to his wife of 35 years, Linda.
The couple had two children and six grandchildren.
---
First Minister hails one of Holyrood's "most well-known and most well-liked"
First Minister Nicola Sturgeon said: "I am very sad to learn of Alex Johnstone's passing. Holyrood has lost one of its most well-known and well-liked parliamentarians, and he will be sorely missed.
"Alex was of course one of the Scottish Parliament's original 1999 intake, and he quickly established himself as a champion of the North East. He was never afraid to stand up robustly for the causes he believed in – but always did so with good humour and respect for his political opponents.
"I would like to offer my condolences to Alex's wife Linda, his family and his friends, and hope that they find some comfort in the warm tributes being paid to him from across the political spectrum and beyond."
Ken Macintosh, the Scottish Parliament's Presiding Officer, said: "Alex and I both came into the Parliament at its inception, in 1999.  From an early stage, all of us detected the ready wit and sense of fun, but also the shrewd political judgment that made him both popular and highly regarded across the political spectrum.
"He was a dedicated parliamentarian, and an intensely loyal man, remaining in his Kincardineshire birthplace throughout his life, close to his farming roots and absolutely committed to making a positive difference.
"To lose a colleague at any age is sad indeed, but to lose one so young is deeply upsetting. His loss will be felt keenly at Holyrood and beyond."
Scottish Labour leader Kezia Dugdale said: "On behalf of Scottish Labour I would like to extend our condolences. Our thoughts are with Alex Johnstone's family and friends.
"Alex had a reputation around the Scottish Parliament as a great character. When our politics can feel divided, he was always quick to inject some much-needed humour.
"Alex was a politician respected across the chamber, and I hope his legacy is one of goodwill in our politics."
Scottish Liberal Democrat leader Willie Rennie  said: "Alex looked like a big Tory bruiser but he was actually a kind and gentle man who I both admired and liked.
"For five years he sat in front of me as I asked the First Minister questions.  He could have chosen to express his dissent every time I spoke but he chose not to embarrass me.
"Instead he would thump the desk in approval every week whether he agreed with me or not – and he did that for five years.  That is the mark of the man. I will miss him."
Co-convener of the Scottish Greens Patrick Harvie said: "I'd like to offer my sincere condolences to Alex Johnstone's family, friends and colleagues.
"I worked with Alex on a number of parliamentary committees and groups over the years, and while he and I were never short of issues to disagree about, he always had those disagreements in a spirit of respect, good humour and courtesy.
"Those are aspects of Alex's presence in Parliament that I know I won't be alone in missing."
Aberdeenshire Provost Hamish Vernal said: "It is with great sadness that I learned of the death of Alex Johnstone.
"He represented the area for more than 17 years in Parliament and was a champion for the North East.
"He will be a huge loss for the area and Scottish political life, and my thoughts are with his family, friends and political colleagues.
"As a mark of respect, flags at Aberdeenshire Council will be flown at half mast."
Very sorry to learn about the death of Tory MSP Alex Johnstone. Condolences to his family and friends. #RIP https://t.co/Wsih9KEFw3

— Angus Robertson (@AngusRobertson) December 7, 2016
Very saddened to hear of premature death of Alex Johnstone. A staunch voice for his party & diligent MSP. My thoughts are with his family.

— Keith Brown MSP (@KeithBrownSNP) December 7, 2016
I always remember this particular Alex Johnstone quip; faintly proud of comparison to Genghis Khan, when you couldn't have met a nicer bloke https://t.co/suk7r0tBjK

— Philip Sim (@BBCPhilipSim) December 7, 2016
Very sad to hear of the loss of my colleague Alex Johnstone MSP. He was v. helpful to new MSPs like me, always giving guidance or a joke.

— Dean Lockhart MSP (@DeanLockhartMSP) December 7, 2016
We're very sorry to learn of the death of Alex Johnstone MSP – a man who cared deeply about local business

— FSB Scotland (@FSB_Scotland) December 7, 2016
Very sad to hear of Alex Johnstone's passing. He was a stalwart for rural Scotland in Parliament & for NFUS NE members. He will be missed.

— Clare Slipper (@NFUSParliament) December 7, 2016
Really sad news about Alex Johnstone. A proper Tory who understood you could disagree without being disagreeable. A great loss.

— Ian Smart (@ianssmart) December 7, 2016
I've many fond memories of Alex Johnstone from my time working in the Scottish Parliament and since. He's been taken from us way too soon.

— Garry Clark (@garryjclark) December 7, 2016
---
A proud North East MSP
Alex Johnstone was a proud and determined champion of the North East, and was always willing to make sure local issues were heard in the national parliament.
He was a tireless campaigner on knife crime, seeking to boost education on the dangers of carrying a blade.
His political activity also included a campaign for greater recognition for King Macbeth, while he also strived to ensure UNESCO recognition for Arbroath Abbey.
This video shows Mr Johnstone highlighting the work of Arbroath's CAFE project, hailing its efforts to tackle the problems of youth crime.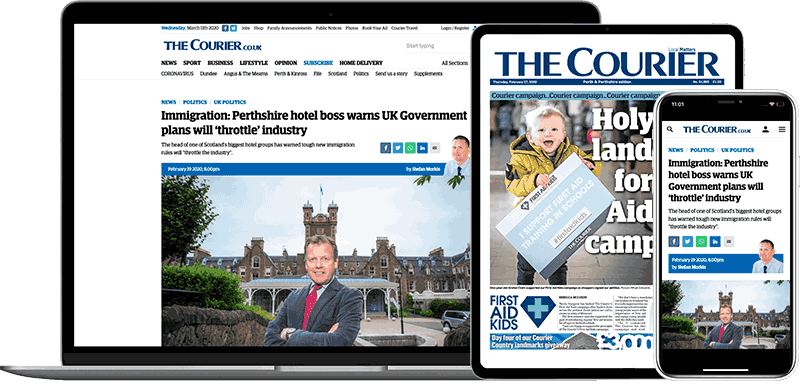 Help support quality local journalism … become a digital subscriber to The Courier
For as little as £5.99 a month you can access all of our content, including Premium articles.
Subscribe