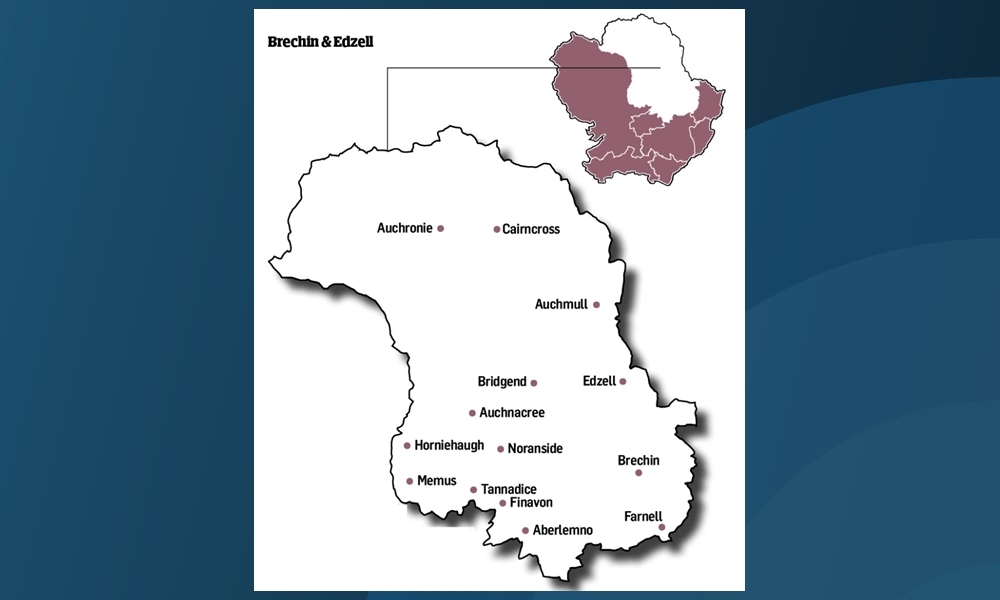 Candidate Paul Wright caused headlines in the run-up to the election after he admitted posting extreme pornography during a row on social media.
It led to Mr Wright 'jumping before he was pushed' and resigning from the SNP. He is now standing as an independent candidate although it will still state SNP on the ballot paper.
After being elected as an MSP last May, Mairi Evans decided to continue as a Brechin and Edzell councillor.
It led to a motion being brought forward in the council chambers in October for Ms Evans to be written to by the chief executive and asked to "consider her position".
Hitting back through the pages of The Courier, Ms Evans vowed to "continue to work hard for all the constituents I've been elected to serve".
Neither she, nor fellow SNP councillor Jim Houston, are standing for re-election as councillors.
Bob Myles is looking to be re-elected. The other candidates are Kenny Braes (SNP), Marjory Smith (Labour), Gavin Nicol (Conservatives), former councillor Alison Andrews (Liberal Democrats) and Jill Scott (Independent).
There have been local concerns about the provision of health services in the ward.
The Mulberry adult mental health unit within the Susan Carnegie centre at Stracathro Hospital has been temporarily closed and moved to Dundee.
The GP ward at Brechin Infirmary was closed last year and NHS Tayside took over the running of Brechin Health Centre due to staff problems, but health chiefs have decalred an improved situation there.
Council cost cutting saw the Pictavia visitor attraction close in 2014, with plans now lodged for the facility at Brechin Castle Centre to become a children's soft play area.
The town's recycling centre was also threatened with closure before councillors agreed to instead restrict its opening hours.
The area has also seen more than £40m of investment through the opening of the new Brechin Community Campus and the flood defence scheme.
Brechin Business Park has also proved a major success.
---
Candidate profiles
The Courier invited each candidate to submit a short introduction to themselves and, if they wished, a video explaining why they deserve your vote.
Alison Andrews (Lib Dem)
I'm a retired teacher and former Angus councillor. I believe the job of a local council is to make sensible decisions on behalf of the community, and to take care of those less able to manage by themselves.
Half my adult life was spent abroad because my husband worked for the British Council. We've lived in countries where people don't have the right to vote for who represents them and can't make their own decisions about what happens to them. It made me appreciate how privileged we are to belong to a nation that does treat its citizens as responsible thinking adults.
Regardless of who is elected on May 4, the statistic that would make me happiest would be that 100% of the Angus electorate used their vote.
Kenny Braes (SNP)
This part of Angus means everything to me. As a farmer just outside Brechin, I have lived and worked here all my life.
I know the meaning of hard work and I promise that, if elected, I will work tirelessly for the people of Brechin, Edzell and all the other communities that make up this ward.
I have extensive local, practical and business experience which I will bring to Angus Council for the benefit of the people of this ward.
I'm passionate about improving the distribution of locally grown food and drink through all parts of Angus. "A local pound is a Brechin pound".
I know how to get the best for Brechin and Edzell out of a tight budget.
Bob Myles (independent)
I have represented Brechin and Edzell on Angus Council since 1999 and always as an independent, so have no political masters other than the electorate.
I have lived and worked in the area all my life, so have a good understanding of the needs and wishes of the people.
I have served on most council committees as well as representing Angus on numerous regional and national bodies.
I was leader of the council from 2007 to 2012 when we also had severe budget reductions from the Scottish Government, but we always tried to find ways of achieving the savings required without cutting essential front line services.
I have always been a councillor who looks for solutions to problems – if there is a will, there is usually a way.
The only promise I ever make is I will do my best.
Gavin Nicol (Conservatives)
I was born in Forfar and my immediate family was born and brought up in Brechin, where I still have many close relations.
I have worked in the area for over 40 years as a building contractor, employing a local workforce and using local subcontractors and suppliers.
Lately, I have been working with Angus Council as a housing inspector.
I was on the Builders and Employers Committee for the north east of Scotland. I was chair of the community council and president of Strathmore Rugby Club.
I have visited extensively in the Brechin and Edzell ward and I have heard at first-hand about many of your concerns and worries.
If elected, will do my utmost to try to resolve these for you. I will be accessible to you and I will use my business skills and knowledge to make sure monies and resources are used effectively for our area.
Jill Scott (independent)
The decision to stand as an independent candidate for the Brechin and Edzell Ward rises from the total support of my family that shares my deep commitment to this area.
Party politics dominates the thinking of the administration of Angus Council to the detriment of Angus and definitely of the Brechin and Edzell Ward in particular.
I have worked with local authorities for years, including Angus, concentrating on housing and the homeless.
I have first-hand experience of the administration of Angus Council.
I am a worker and have the strength and determination to strive for change, for improvement. I have the advantage of having been employed by Angus Council.
I am not interested in politics. I am focused on achieving the very best for business, employment, the amenities and environment, housing, and care of the vulnerable in this rural ward.
Brechin and Edzell deserves a councillor who sees working for her ward as a privilege.
Marjory Smith (Labour)
I have lived in Brechin for over 40 years and I am a retired headteacher.
I was previously a member of Brechin Community Council, campaigning to improve our town and was instrumental in ensuring the town bus services the health centre and infirmary.
I am concerned about bus services in Angus and I am supporting the Co-operative Party's People's Bus campaign to run services for people not profit.
I believe that Angus Council should be about empowering local people and I will make sure that my actions are in line with their wishes.
I am committed to putting the interests of the Brechin and Edzell first. I will campaign for the services that you and your family need.
I will use my educational expertise to ensure that local schools receive the necessary support and investment.
I will be on your side and work hard for you.
Paul Wright (independent)
With me as councillor you will have someone who sees the potential for this area and has a vision of how to improve its fortunes.
Already some grant funding is being given to this locality to manage – I want to see much more community involvement in decision making and to use the new powers that are coming to bring disused land and buildings into productive use.
Brechin, Edzell, Aberlemno and the other places in this ward should be attracting many more visitors and people wanting to live here.
We have excellent amenities. We need to work together to put this area firmly on the map.
You will not find me ranting online about how awful things are. You will find me exploring every way to find solutions and creative approaches to the issues that arise.
I know you want a councillor who's committed to the job full-time – I offer you that commitment and purpose.