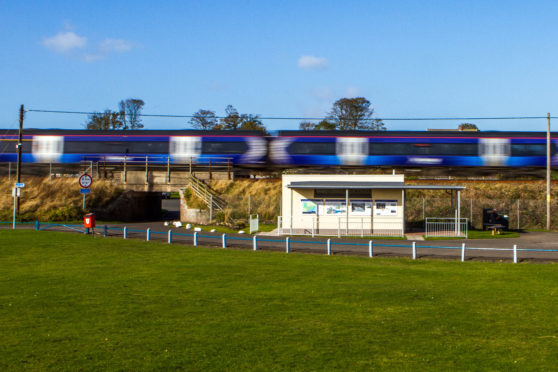 "Lowlife" thieves have plundered three paintings from the wall of a public toilet in Angus which has been transformed into an art gallery.
The paintings were stolen from the gents toilet in East Haven on Wednesday and villager Wendy Murray said it was hard to believe someone would stoop so low.
The local community in East Haven took ownership of the 1970s toilets in 2015 after they were declared surplus to requirements by Angus Council.
The three paintings were of tulips in a gold frame, the Loch Stack in a silver frame and thistles on canvas.
The toilets were transformed into an art gallery by locals after volunteers modernised and decorated the building.
The toilets are run by local charity East Haven Together and have become affectionately known as the Loo-uvre.
Wendy Murray from East Haven Together said: "This is the first time since we took on the community partnership with Angus Council in 2015 that we have had any stolen and it's hard to believe that somebody would stoop so low as to deliberately steal them.
"It is probably somebody who was visiting by car as they were too big to tuck under the arm and walk away with them.
"All the work we do in the toilets is for the sole benefit of visitors and people using National Cycle Route 1.
"The art works are all painted by members of the gardening group to improve the environment and visitor experience.
"We have been overwhelmed with support and positive messages from the public since news of the theft was posted on our Facebook page.
"The toilets artists have vowed not to let the actions of one individual spoil the experience for others and will be getting their brushes out again over the coming weeks to produce more work for next season."
East Haven Together was established as a charity in July 2015, replacing East Haven Residents' Association as the local community body representing the aims and aspirations of East Haven.
The aims of the group centre on developing and maintaining a sustainable community through protecting and promoting the heritage and natural environment of East Haven and serving the needs and interests of residents.
Carnoustie Independent councillor Brian Boyd said: "That some lowlife could do this to a community that has done so much hard work to brighten up their village beggars belief."
Angus Council's head of economic development Alison Smith described the theft as "shameful".
Police Scotland said it was aware of the incident.