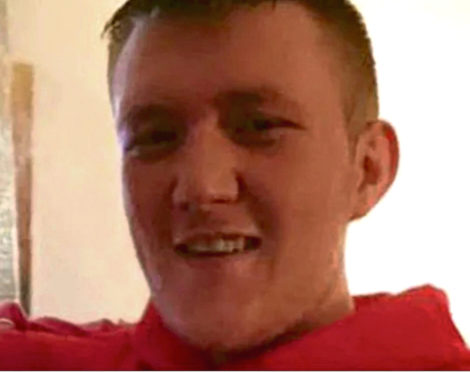 An online gamer who won a battle to avoid extradition to the USA after being found grooming a 14-year-old girl during an FBI probe has finally been locked up.
Delivery driver Christopher Thomson forced his terrified victim to send him a sexually explicit video before urging her to self-harm and to commit suicide.
He controlled her life and hacked into her online accounts to monitor her activity on the other side of the world.
The US authorities launched a bid to have him stand trial in Texas, where he could have faced a life sentence, but he won a court bid to establish that would breach his human rights.
However, Thomson, 26, was finally locked up yesterday at Dundee Sheriff Court – five years, six months and 24 days after he was first interviewed by police.
He was remanded in custody for reports after he admitted forcing his 14-year-old victim to send him a sexually explicit video of herself, which he watched and recorded, in September 2014.
He also admitted secretly accessing the child's Skype account, threatening to share her video, and instructing her to self-harm and commit suicide.
He also admitted banning her from listening to certain kinds of music, telling her to rip up One Direction concert tickets, and forbidding her from talking to school friends between June and November 2014.
Depute fiscal Charmaine Gilmartin told the court Thomson was unemployed and met the 14-year-old Texan girl playing war games on the Xbox.
She said: "At the time he was 20. In November 2014 Police Scotland got information that indecent images of children could be found at his home.
"A search was carried out. The accused was nervous, sweating and shaking."
Thomson asked police: "Where did you get information from? Do people go to jail for this?"
Mrs Gilmartin said Thomson had installed a Skype password hacking app and had searched online for how to secretly get into other people's accounts.
She said: "The complainer first met him playing Game Of Life on the Xbox then they communicated through Skype.
"She was coerced into participating in sexual activity. The accused sent a large number of abusive, threatening and controlling messages.
"He demanded she stop listening to certain music, go home immediately, when to shower, when to sleep, eat and what she could and could not wear.
"Over four days he forced her to provide updates on what she was doing every few minutes. She had tickets for a One Direction concert and he insisted she choose between him and the concert.
"He told her she was only allowed to talk to one friend at school and that he would listen to the audio from her phone to check."
The girl pleaded with Thomson to stop but he threatened to expose what she had done to her family and others and continued to bombard her with messages.
The FBI were eventually informed and the Department of Homeland Security launched an investigation.
Thomson, from Dundee, denied he was in Scotland and contacted his victim's sister to tell her he would make the girl commit suicide.
When he was interviewed by police, he initially denied being in touch with the girl, but eventually confessed to grooming her.
Mrs Gilmartin said: "This behaviour has had a tremendously adverse effect on the young female… She has threatened to take her own life."
The prosecutor said the US authorities got Grand Jury permission to put Thomson on trial and a lengthy legal process began to try to extradite him from Scotland.
Thomson battled the move through the Scottish courts for several years until it was ruled to be a breach of his human rights in May last year.
Sheriff Alastair Carmichael deferred sentence on Thomson for the preparation of reports and remanded him in custody.
His details were added to the sex offenders register.
1
For as little as £5.99 a month you can access all of our content, including Premium articles.
Subscribe