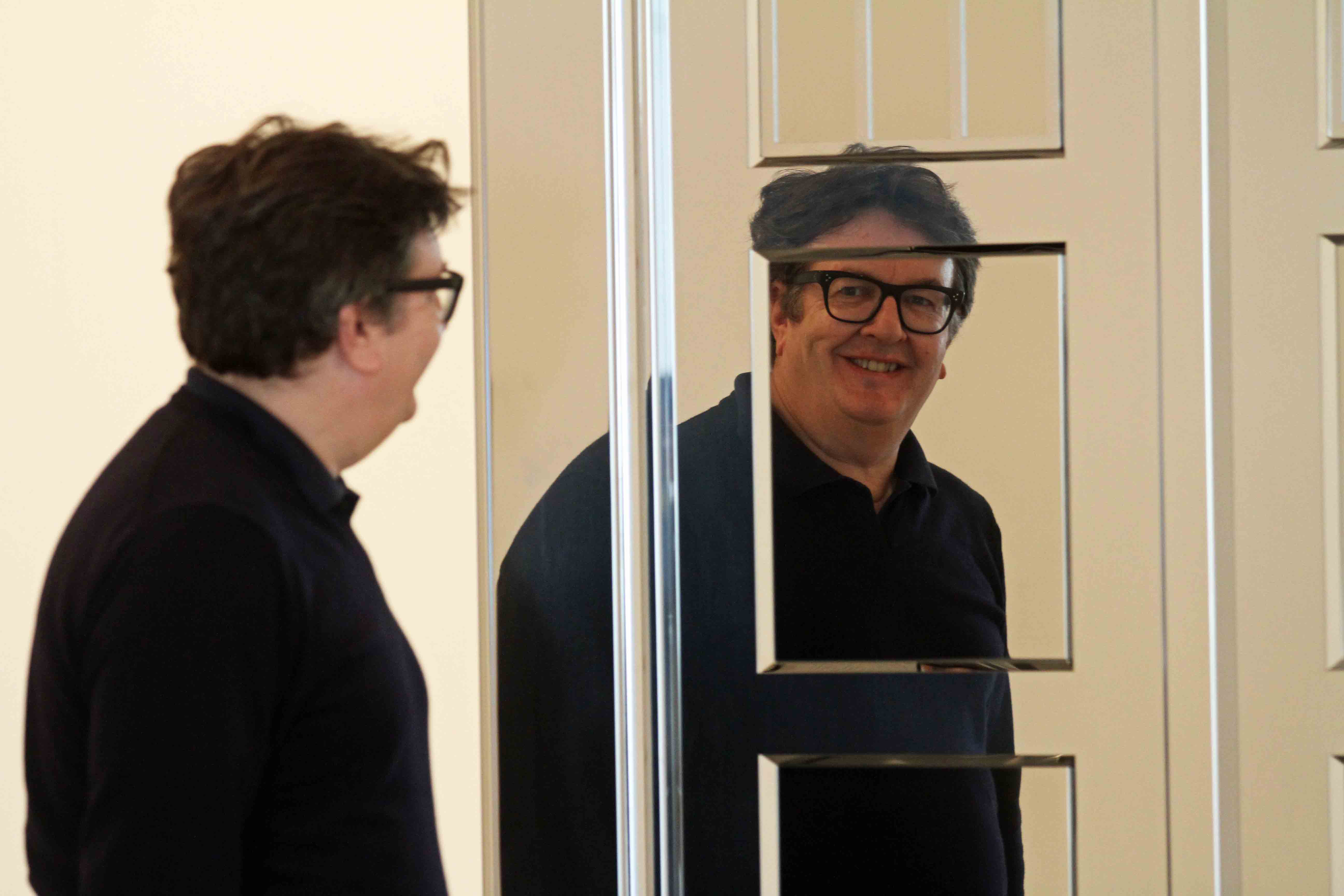 A new exhibition of work by Turner Prize-winning Mark Wallinger has opened simultaneously at Dundee Contemporary Arts (DCA) and The Fruitmarket Gallery in Edinburgh.
MARK WALLINGER MARK is split into two parts and will be shown in both venues until Sunday 4 June.
It is the first exhibition in Scotland by the artist and features Wallinger's most recent body of work: the id Paintings (2015-16).
These are presented alongside a series of sculptures, films and wall-based works which further explore the themes of identity, reflection and perception addressed in his new work.
In the Dundee half of the exhibition, 12 of Wallinger's id Paintings surround a new work, Self (Symbol) (2017), a capitalized 'I' aggrandized as a three dimensional statue the height of the artist.
The id Paintings have grown out of Wallinger's extensive series of self-portraits, and they reference the artist's own body. His height – and therefore his arm span – is the basis of the canvas size. They are exactly this measurement in width and double in height.
Wallinger described the paintings as the basis of both the Dundee and Edinburgh exhibitions.
"There are different works in the two spaces, but these are the starting point, or spine if you like," he said.
"There is quite a lot of work around the idea of identity and my presence."
Video pieces are also included in the DCA gallery, including Shadow Walker in which the artist filmed his shadow walking ahead of him.
In MARK, a 2010 creation, Wallinger chalked the title all over the city of London within the parameters of single standard-sized brick. This deadpan tagging is rendered as a photographic slideshow, made up of 2,265 images.
A mirrored TARDIS is also on display in the exhibition.
Wallinger said the development of Dundee had been notable in the time since he first visited the city to prepare for the gallery.
"I came up here about a year ago to look around and think about how this show might be hung.
"There has been so much work, lots of work, on the V&A since then. It looks amazing already – I quite like it as it is."
Beth Bate, director of DCA, said: "We're delighted to be welcoming Mark Wallinger to our galleries and to be working alongside The Fruitmarket Gallery in Edinburgh in this compelling exhibition of two parts.
"Mark's first show in Scotland features his new body of work, the enigmatic id Paintings.
"We can't wait to welcome audiences to this exciting exhibition."
MARK WALLINGER MARK is a collaboration between Serlachius Museums, The Fruitmarket Gallery, and the DCA.