Gaelic music composed by Dundee-born Simple Minds bass player Ged Grimes takes centre stage in a new video game set in 18th century Scotland. Michael Alexander spoke to Ged to find out more.
As a composer, producer and performer of music for over 30 years, Dundee born and raised Ged Grimes came to prominence as a member of 1980s pop trio Danny Wilson and, for the past eight years, he has been the bass player with rock legends Simple Minds.
But what's perhaps lesser known is that for the best part of 10 years after the break-up of Danny Wilson, and before joining Simple Minds, Ged spent most of his time writing and producing music for computer games.
The new venture started in Dundee through his friend Chris van der Kuyl when he did the soundtrack for a game called Earthworm Jim 3D.
Eventually that led to material being produced in America and Japan including Shrek 3, The Bourne Supremacy (Trailer), Quarrel and Enter the Matrix – nominated for Best Instrumental Music and Best Original Song at the inaugural GANG Awards at the Game Developers Conference in San Francisco.
Now, in a world first, Ged, 56, has composed and produced an authentic soundtrack with Gaelic artists and traditional musicians for a new virtual reality video game set in 18th century Scotland, the sequel to the highly successful Bard's Tale from the late 1980s.
The former St Saviour's High School pupil was responsible for sourcing musical talent, composing and producing the soundtrack to The Bard's Tale IV Barrows Deep in a gaming first which features Scottish traditional and Gaelic music at the heart of the game to propel the storyline and characters.
Speaking to The Courier before Simple Minds headed off this week for a tour of Mexico and the USA, Ged explained that he collaborated with a breadth of Gaelic artists, who span generations, to record an authentic soundtrack for the game, set in a virtual Skara Brae, which uses a central character, The Bard, to tell the story of life in ancient Scotland through a virtual Highland landscape.
Talent ranges from 16-year old Peigi Barker, who was the voice of Young Merida in Disney's hit children's film Brave, to Scottish piping sensation and Gaelic singer Rona Lightfoot, aged 82, who brings over five decades of music experience and talent to the game's soundtrack and voiceover.
The soundtrack features more than 30 songs for the game from Scotland's Gaelic community, including a 40 strong Gaelic choir.
"Scotland's traditional and Gaelic music is an intrinsic part of our history and culture," said Ged, who was contacted "out of the blue" in 2015 to put the soundtrack together by the New Orleans-based InXile Entertainment producer with whom he worked on Earthworm Jim.
"Its beautiful melodies reach deep into our souls and its magical songs, passed down through the centuries, tell stories of a proud ancient civilisation.
"When composing the scores for the Bard's Tale, I wanted to capture the breadth of outstanding voices and musicianship that exists in my homeland and create a soundtrack fit for the Bard which reflected Scotland's unique musical heritage. These ancient songs tell us about how life was lived long ago but can also give us wisdom, vision and hope for the future."
Ged doesn't speak Gaelic. But he grew up playing folk music and over the years has been exposed to and has developed good connections with the Gaelic community.
Working with these Scottish musicians therefore felt like "going home", he revealed, and it was particularly "brilliant" to produce and record the music in his studio in Dundee – a city with its own renowned computer game development reputation.
"The great thing about computer gaming and music is it's a great platform and opportunity for musicians," he said.
"When I first started writing music for games, my pals in the music industry said 'you're crazy.
"You've really lost it. You've taken a real step back.'
"Nowadays it's a really cool thing if your music is involved in a game.
"Once you get involved in a game you are in there for hours and hours and hours on end. For me that's the real opportunity – your music's getting associated with the character in the game.
"Or your music is getting heard so many times within the game – the player gets really attached to the musical themes that are in the game. It's like film music but even more powerful.
It's been a brilliant space for me to be operating in."
The Bard's Tale IV Barrows Deep will mark the 30th anniversary of the original 1980s Bard's Tale game. It uses 3D reconstruction to transport gamers into a virtual 18th century world of fantasy role play in the Highlands where they must navigate maze-like dungeons and battle against monsters, beasts and brigands.
Ged added that a live show incorporating the game, music and voice acting from the new game is being planned for 2019.
Having been "positively buzzing" about Simple Minds' gig last week at Slessor Gardens in Dundee, he describes this latest computer game experience as "one of the best things" he has ever done.
However, he is also keen to positively contribute to Dundee's growing international reputation and the city's new-found "self-belief".
"Back in the day when the first computer game companies were coming through in Dundee, it was a leap in the dark," he said.
"Who knew that these games companies which started in Dundee were going to become so huge – Abertay University supporting the computer games course.
"Strangely enough I get computer games guys in London seriously considering moving their lives to Scotland because the quality of what's happening in the city is so high.
"You operate on an international state now – you can be working on a game in a flat in Dundee that can be immediately distributed world-wide.
"The creative spark is here and the thing I keep saying to people about Dundee is 'Dundee is of such a size and the community in Dundee is so strong and close that people tend to help each other out.'
"It's the same with music. People will give each other a leg up. When you are just starting out in any creative field whether it's music or computer gaming – to know that others basically are willing to give you a chance is a great thing and Dundee has always had that with its music right back to Mafia, Average White Band – Danny Wilson came out of that.
"We used to go to the pub to see Mafia in Dundee and we were shouted up to play when we were 15/16. That continues no matter what the creative industry is."
Ged said his home city was now "punching way above its weight". The V&A Design Museum and events like the Slessor Gardens concert was a "rubber stamp and validation" of where the city was going.
"We are now in great shape to be able to build on it and keep getting the good news out there about the city," he added.
"It's there for all to see.
"We (in Simple Minds) are fortunate to play all over the world and play in some amazing venues. But you can see when you play in places with no positivity and no investment.
"What you see in Dundee now shows what can be achieved.
"It's been an indication of everyone's input. People start to believe.  That's what's brilliant about it. That people start to believe. The positivity is there now."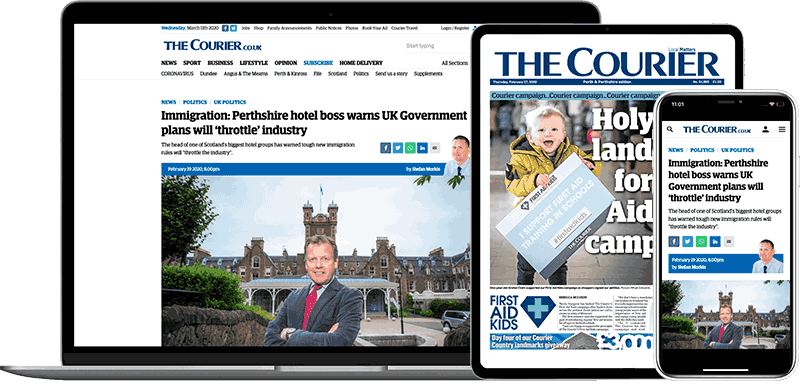 Help support quality local journalism … become a digital subscriber to The Courier
For as little as £5.99 a month you can access all of our content, including Premium articles.
Subscribe