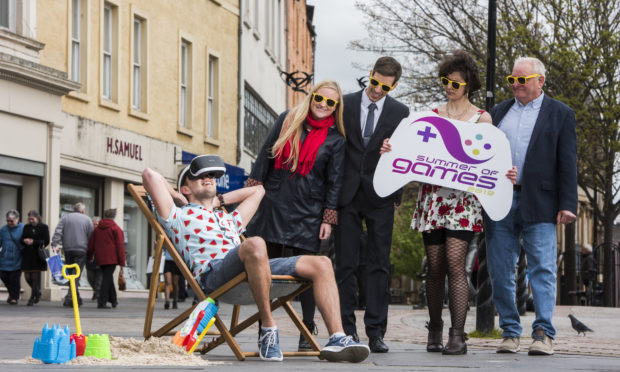 A four-month gaming extravaganza will take place in Dundee to coincide with the V&A's newest exhibition.
The Summer of Games, announced today, will bring top talent from the industry to the city with talks, design competitions and family events all happening.
It comes following the launch of the V&A's new Design/Play/Disrupt exhibition.
Summer of Games begins with Abertay University's Digital Graduate Show, which runs from May 10-14 and will feature videogames, virtual reality (VR) and animation.
In May, a Glasgow University event called im/material: Virtual Encounters With Material Worlds – which explores VR and augmented reality (AR) – will take place. It will feature discussions between academics, games designers and digital storytellers.
As #Dundee gets set for #SummerOfGames, @DundeeCouncil leader @CllrAlexander tells us about his favourite #videogames 🕹 pic.twitter.com/LgOK7ZWmaz

— Abertay University (@AbertayUni) May 7, 2019
A conference will also take place in the V&A on May 18 bringing together leading designers and thinkers from the gaming world.
On the same day, the museum will be taken over by We Throw Switches for Press Play – – a one-off evening showcase of playable international design running from 7pm to 10pm.
Dundee's biggest ever PechaKucha event will be held at the Caird Hall on May 28 as part of the opening month festivities.
Games composer and Simple Minds bassist Ged Grimes – who created the soundtracks to Earthworm Jim 3D, Enter the Matrix and Shrek 3 – is one of the speakers.
Videogames competitions Tranzfuser and Dare Academy are being included in the Summer of Games programme.
Other events taking place across June and July include a digital treasure trail for families and a UK Hub Crawl workshop.
On September 4, the UK Games Fund Awards are being held at V&A Dundee.
To mark the end of the summer of events, and the Design/Play/Disrupt exhibition, a "game jam" is being held in collaboration with Abertay University where people can watch computer artists, programmers, designers and sound engineers create their work live at the V&A.
It will take place from September 6-8.
Founder and chief executive of the UK Games Fund Paul Durrant said: "The benefit of having Dundee as the base for our UK operations is that we are able to participate in fabulous opportunities like this.
Professor Gregor White, Dean of Abertay University's School of Design and Informatics added: "Dundee is one of the UK's most innovative and forward-thinking videogames clusters and it's fantastic to see such a wealth of activity taking place across the city."
Gillian Easson, Director of Creative Dundee said: "This year is a great opportunity to show just how important Dundee's creative industries are to Scotland and there's never been a better chance to shine a light on all the amazing projects we have going on in the city."
V&A Dundee director Philip Long added: "This summer will be a particularly exciting time for game players and anyone with an interest in art, creativity and design, from the many different events and talks to our major new exhibition, Videogames: Design/Play/Disrupt."