Fun, frolics and shaving foam were the order of the day in St Andrews as students brought this year's Raisin Weekend celebrations to a raucous conclusion.
The annual foam fight at the University of St Andrews saw hundreds of revellers descend on the normally tranquil St Salvator's Quad on Monday morning for a rite of passage that has gone on for generations.
The weekend's festivities stem from the tradition of new students giving a pound of raisins to their academic "parents" – older students who have agreed to be mentors – to say thank you for welcoming them to the university.
Wine is a more common present these days as academic "children" are taken by their student mothers and fathers on tours of the town's pubs.
And while some have levelled criticism at the Raisin Weekend festivities for occasionally getting out of hand, this year's hour-long foam fight was as good-natured as ever.
Several hundred first year students braved the chilly conditions, donning weird and wonderful fancy dress costumes for the occasion, and sent foam flying across the Lower College Lawn.
Lewis Wood, Student Association president, said the beauty of the foam fight was that the students themselves organised it, with the university supporting it by allowing use of the ground.
"Some people say it's been going for hundreds of years, others say it's been going since the 70s, but essentially it's all about St Andrews always having academic families – support structures to make sure that your adoption into university is successful and that you get to know people," he said.
PICTURES: St Andrews students celebrate Raisin Monday with epic foam fight
"It's just a really lovely, lovely time and it's always the highlight of first year.
"Any student you ask will tell you that the foam fight is one of the best parts.
"It's really, really fun."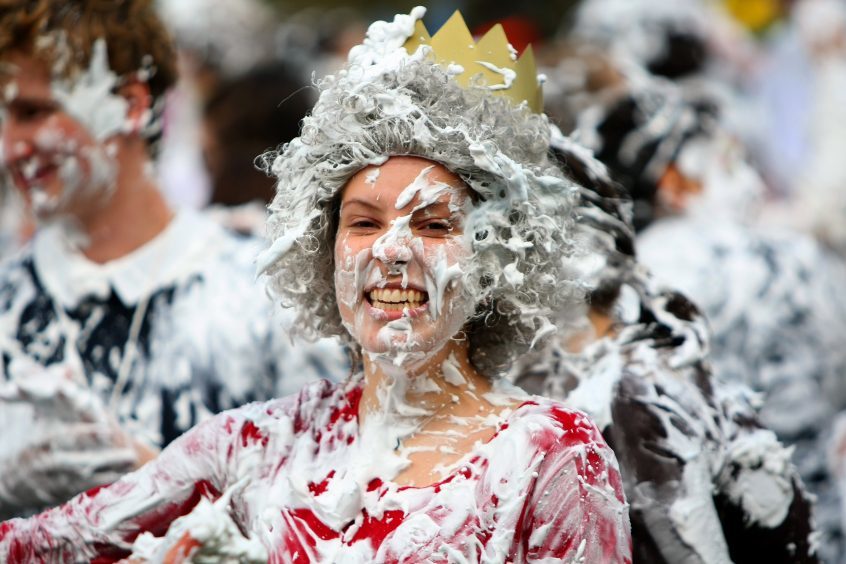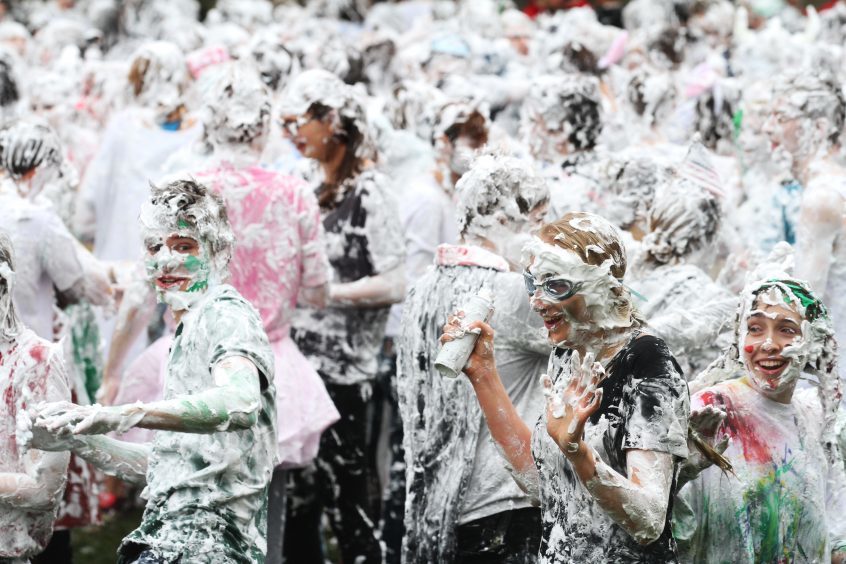 Police had warned students to behave themselves ahead of Raisin Weekend this year following alcohol-fuelled anti-social behaviour in the past.
Despite a few reports of disorder on Sunday, Mr Wood said the vast majority of students had taken heed of the warnings and safety advice.
"We ask students to be as conscious of the community as possible and of course we don't approve of anything that does disrupt community activity," he stressed.
"I think most students are well intentioned and they don't mean to be a nuisance.
"Sometimes students can get overly drunk, which of course we don't condone, and we do promote sensible drinking and healthy activity."
As part of the Raisin Monday tradition, students headed to their academic mums' houses to be dressed in costumes, before visiting their academic dads to receive a Raisin Receipt to take to the Quad for the foam fight.
Raisin Receipts were traditionally written on parchment and had a particular Latin phrase inscribed on them.