The parents of missing Fife man Allan Bryant Jnr have told of their "living hell" during an appearance on Crimewatch.
The new appeal for information was aired on Tuesday morning and featured CCTV footage from the night he went missing.
Police are asking anyone who may have seen the 27-year-old wearing his distinctive striped t-shirt on the night of November 2 2013 to come forward.
Dad Allan Snr, 52, and mum Marie Degan told of their heartbreak following their son's disappearance from outside Styx nightclub in Glenrothes almost five years ago.
Speaking on the show, Allan Snr said: "It's a living hell because you're trying to move on but you can't because you're stuck in limbo.
"How can you move on with your life when you don't know what's happened to your first born child?
Marie added: "I'm hoping for somebody to come forward with information and put an end to this for us.
"This is a living nightmare for our whole family and we can't move on, we never will move on. We need answers."
Police Scotland's Detective Inspector Kevin Houliston appeared on the BBC One programme and showed CCTV of Allan Jnr's last confirmed sighting.
The short clip, taken from cameras inside and outside the nightclub, show the missing man leaving the premises whilst unsteady on his feet.
He briefly spoke to a door steward before walking up a set of stairs and heading in the direction of his home.
Troll jailed for eight months after taunting Allan Bryant Jnr's family for a second time
But when he failed to arrive, his worried family reported him missing the following day.
DI Houliston added: "Allan was 23-years-old and on Saturday the 2nd of November 2013, he left his home in Glenrothes in Fife to go to an engagement party at Leslie Golf Club which is on the outskirts of the town.
"He stayed there until about midnight and then travelled with some friends back into Glenrothes to a nightclub called Styx which is on Caskieberran Road in Glenrothes and that's roughly a mile from where Allan lived.
"We know that Allan stayed at the club until it closed at 2am."
He added: "In the four and half or more years that it has been since Allan went missing, this remains the last confirmed sighting that we have of him.
"However, I'd like to draw people's attention to the t-shirt that he was wearing. It has three distinct colour bands of blue, grey and white.
"I would ask any members of the public that if they can recall seeing somebody in their area that night wearing that t-shirt, then please get in touch with us and come forward."
A vicious internet troll who has previously targeted the Bryant family appeared at Kirkcaldy Sheriff Court on Tuesday facing allegations that he breached his bail conditions.
The case was deserted by the procurator fiscal and Stewart McInroy, 27, was sent back to prison where he is currently serving an eight month sentence for abusing the family online.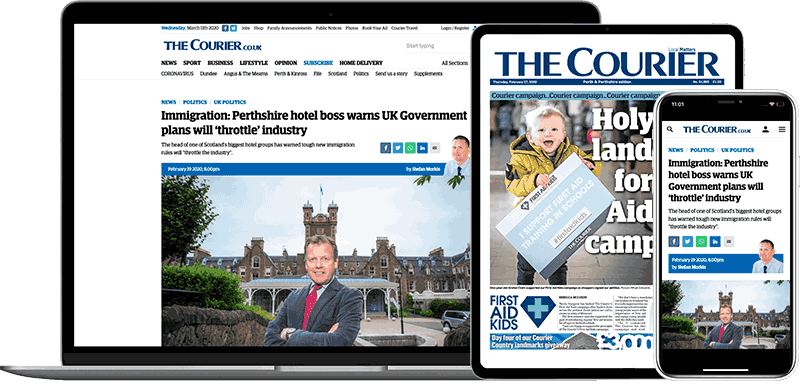 Help support quality local journalism … become a digital subscriber to The Courier
For as little as £5.99 a month you can access all of our content, including Premium articles.
Subscribe