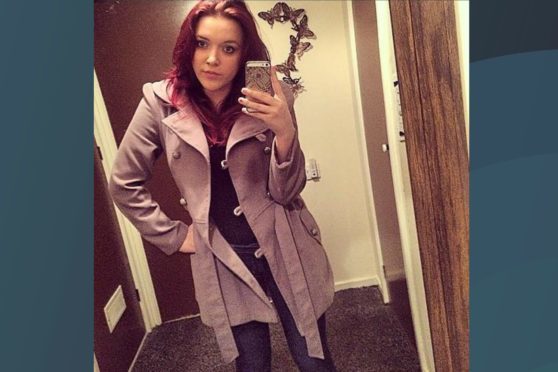 A woman who was allowed to turn up late for unpaid work because she disliked early mornings has been caught brawling with police officers again.
Natasha Harwood was given dispensation to lie in instead of arriving in time for her community payback at 8.45am.
Harwood, 20, has now been back in the dock in a new case to admit struggling with police officers who came to help her.
Yesterday at Perth Sheriff Court, Harwood, of Lewis Place, Perth, admitted struggling violently with officers on a woodland walking trail at Quarrymill, Scone, on March 10 last year.
The court heard how Harwood had called the police herself and reported that she was being followed on the trail by a mystery man.
However, when officers arrived the scene they found Harwood sprawled on the ground and smiling, so they approached to speak to her.
She then tried to run away and had to be chased and held by the officers. A charge of trying to bite the female officer was dropped by the Crown.
Harwood – who gave birth to her first child in December – had sentence deferred yesterday and was ordered to be of good behaviour until May 9.
In 2016, her case attracted political fury when it emerged that she was being allowed to undertake a social work programme for offenders at her own convenience.
Harwood was placed on the Right Track project after being convicted of biting a nurse and brawling with police officers.
It emerged that offenders on the Right Track scheme were scheduled to report for duty at 8.45am but if getting out of bed proved difficult they could arrive later and still claim the credit.
Harwood's original sentence came to light when an exasperated sheriff expressed his bewilderment at the set-up.
Sheriff Lindsay Foulis was advised that no matter what time offenders actually arrived, they would be allowed to start their work and have the hours credited to them.
He said: "So what we are saying to the folk we are trying to get on the work project is that they should be there for 8.45am but we will let you come in later?
"I am sure all of us round this table would love to be able to operate that way ourselves."
At least five police officers and medical staff had to restrain Harwood during her first drunken rampage.