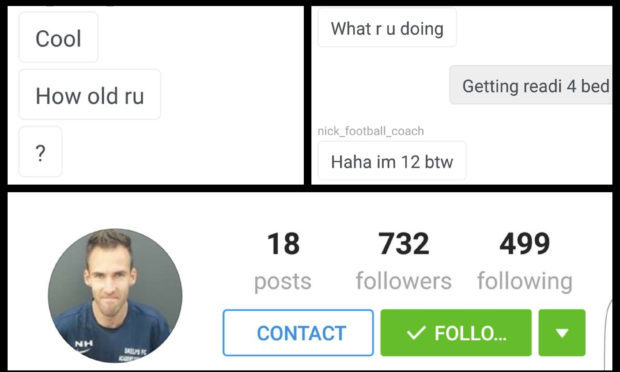 An Australian mum has told how her young son was left traumatised after he was groomed online by a youth football coach from Perthshire.
The 10-year-old thought he was chatting with another schoolboy who shared an interest in skatepark videos.
But he was actually speaking to Nicholas Henderson who, at the time worked as an under 15s-coach with Scone Thistle FC.
Henderson, 29, appeared at Perth Sheriff Court last week and was sentenced to 180 hours of community service. He was also placed on a three-year supervision order, which effectively bans him from using the internet.
His victim's family, from Adelaide, have broken their silence, revealing Henderson was caught out when Scottish relatives recognised the name of the club for which he coached.
The boy's mother said she was initially laughed at by police in Australia when she reported the offence.
She told how her son was left in shock, worried Henderson was going to travel to Australia to "get him".
The mum, who cannot be named to protect the identity of the young victim, said her son began using an Instagram account in 2016 to make and share scooter videos.
"I set up the account so that, even though he had his own device, it was still connected to my phone, so I received all his notifications and direct messages," she said.
Community service for youth football coach caught grooming 10-year-old
She said: "One evening my phone kept buzzing with notifications.
"My son came in about 10 minutes later and said: 'Mum, this guy is talking weird' and 'It's a bit creepy.'"
She saw that her boy was chatting to an account with profile name Nick_Football_Coach.
Henderson's own photo was on the account, but he had told his victim he was a 12-year-old boy and was using his uncle's phone.
"I asked 'Nick' if he could send a pic of himself so I could see who I was talking to," she said. "He replied: Yes, wait, I'll send one now.
"By this time, he must have realised he wasn't going to get anything out of my son, and before my eyes all the messages started disappearing.
"He deleted every message that had been sent, so now it looked like my son had been talking to himself."
The mother found Henderson on Facebook and sent him a message. "I was pretty angry, so I did swear and call him a few names," she said.
"Because we live in Australia, I thought this man lived here in Perth.
"Our relatives who live in Perth, Scotland, said they recognised the football team."
The mum took screen grabs of the conversation to her local police station.
"The constable behind the counter laughed at me, and said he didn't know what I wanted them to do and wished me good luck. They didn't want to know about it."
She then forwarded the messages to her cousin in Scotland, who contacted her local police office.
"In a matter of hours, they went round to her flat," she said.
"My son had to go into the city and make statements about what happened and how he felt.
"When this first happened, my son said he would see Henderson's Instagram picture every time he closed his eyes. He had trouble getting to sleep at night.
"We would go to the shops and he would freak out, because he thought he had just seen him.
"He was worried that because we had gone to the police that he was going to be in trouble, that this man was going to come to Australia and get him, or tell him off.
"This went on for a while, but with support and reassurances he did get better.
"It impacted my son greatly. He was smart about stranger danger, but this has just made him a little paranoid.
"He no longer rides at his local skate parks anymore and he's hesitant about being around males."
She said she was very proud of how her son had handled the matter.
Henderson was sentenced on Monday, by coincidence his victim's 12th birthday.
The mother said she was disappointed by Sheriff William Wood's remark to Henderson: "You are a relatively young man who has found himself in a bit of a mess".
She said: "I almost feel as if he sympathised with him and his actions."
She said it was "really insulting" that Henderson's agent had raised concerns in court, that restrictions could stop his client from eating at McDonald's.