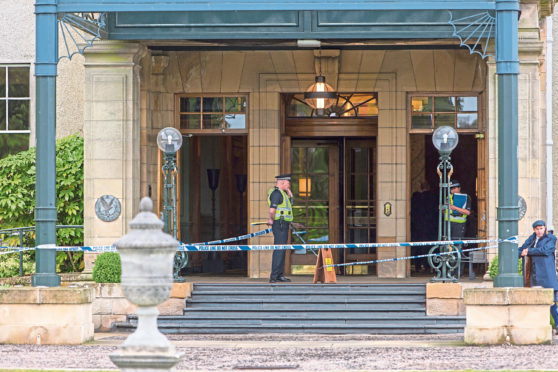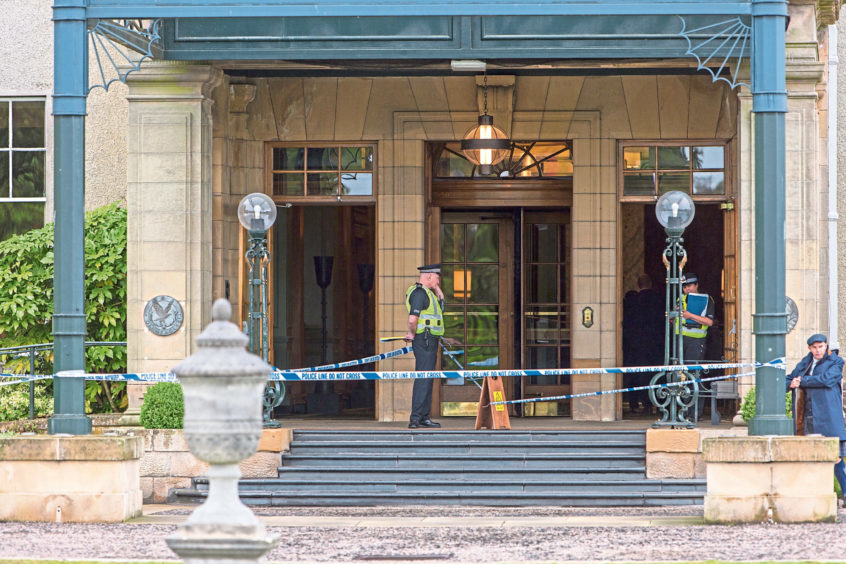 A manager at a top hotel thought three masked men who stole watches worth more than £500,000 from the resort were carrying out a terrorist attack, a court has heard.
Harriet Henderson, 26, witnessed an armed robbery when she was on duty as the assistant manger at Gleneagles on June 27 last year.
The High Court in Edinburgh heard Ms Henderson say yesterday that her attention was drawn to a noise.
Ms Henderson was giving evidence on the second day of proceedings against Richard Fleming, 42, of London. He denies armed robbery and other charges.
She told prosecution lawyer Jane Farquharson: "I remember it was noise I heard first. It was like a crackling, banging sort of noise.
"My first instinct was someone had dropped something. Then it took a few seconds to register was happening."
She realised that someone nearby was having a "kind of exchange" with a colleague at a nearby concierge desk. She added: "It wasn't a normal guest exchange."
Ms Henderson added she could not see the individual's face and remembered the person being dressed in black clothing.
She added: "There were other people in the lobby coming up towards us."
She told the court there were three people in total and they were wearing masks.
Ms Henderson said two of them went in the direction of Mappin & Webb jewellers. She ducked and ran and customers at reception also left under her instruction.
She said: "I thought it was like a terrorist attack. That's what I thought it was."
Louis Hutchison, 48, told Ms Farquharson he was on duty as a concierge at the hotel on June 27.
Mr Hutchison, who had worked at Gleneagles for almost three decades before leaving last year, said he was sitting at his desk on the phone when he noticed something out of the ordinary.
He said: "I looked up and there was a masked man standing there. He was wearing black overalls and had on a full face mask. He had a bag over his shoulder.
"I thought it was a male. He threatened me. He said 'move and you're deid'."
He told Ms Farquharson he associated the threat was made by somebody who had a "west of Scotland" accent.
Mr Hutchison said the man pointed a "black automatic" gun at him.
Ms Farquharson asked: "How did you react?"
He replied: "I just stood still. I was startled. I was shocked."
Mr Hutchison said the three men ran towards the Mappin & Webb boutique in the hotel.
He said he then left the building and phoned 999.
Mappin & Webb sales assistant Daniel Horne, 54, told the court he ran into a back office to avoid the armed robbers.
He told Ms Farquharson: "I initially thought it was a terrorist attack. I heard bangs and I said to my colleague 'that sounds like gunfire'.
"I thought they were killing people."
Members of the jury were then shown CCTV footage of Mr Horne running into the back office. Jurors saw the three masked men enter the premises a few seconds later.
The jurors saw the masked men use hammers to smash display cabinets. The jury could see the men take Rolex watches.
Mr Horne said: "I knew at that point it was a robbery."
The court heard it took approximately two minutes.
Mr Horne added: "It felt like ages. It felt like 20 minutes."
Fleming has pled not guilty to armed robbery, attempting to pervert the course of justice and housebreakings in St Andrews on June 12 2017.
He is represented by Brian McConnachie QC.
The trial, before judge Lady Carmichael, continues.
One guest believed she was witnessing a shoot for a film
A guest saw a masked man threaten an employee with a gun and thought she was watching a film shoot, a court heard.
Patricia James, 58 witnessed an armed robbery which resulted in Rolex watches worth £516,750 being taken from a boutique at Gleneagles Hotel.
The High Court in Edinburgh heard Mrs James say she saw a group of masked men leave an Audi car outside the exclusive resort.
She said she saw one man in black run into the hotel wearing a "Halloween" mask with a hood over his head carrying a hammer.
Mrs James said witnessing the situation made her feel stressed and she wanted to leave the scene immediately.
She told prosecution lawyer Jane Farquharson: "Initially I thought it was some sort of film shoot. I thought there was filming going on and the hotel forgot to tell us it was happening. I didn't know what to do with myself. I heard shouting and I remember thinking to myself this was something more than a film shoot."
She told the court she and her partner William Goldie were checking out of the hotel at the time of the robbery.
She told Ms Farquharson an Audi car headed towards the front door at speed. It stopped suddenly and then it reversed a short distance.
Mrs James said she then saw a man emerge from the back of the car and he was joined by others.
Mrs James said she could tell it was an Audi as her late husband had worked for the German motor company.
The jurors also heard another man called Liam Richardson had earlier pleaded guilty to participating in the Gleneagles robbery.
Charges before the court
Fleming has pleaded not guilty to a charge which states he committed armed robbery at the hotel on June 27 2017.
It is alleged while acting with others, with his face masked and in possession of hammers, a machete and a self loading pistol, he assaulted Louis Hutchison working at the premises near Auchterarder, Perthshire, and presented the pistol at him and threatened him with violence.
It is also alleged while acting with others, with his face masked and in possession of items, he assaulted employees Eva Riedel and Harriet Henderson and brandished the pistol at them and smashed a display ambient.
Fleming is further accused of, while acting with others and with their faces masked and in possession of the items, entering the Mappin & Webb boutique at the hotel and putting employees Stephen McIvor and Daniel Horne in a state of fear and alarm for their safety, striking and smashing display cabinets and robbing them of a quantity of watches. He is also accused, while acting with others, of assaulting security advisor Euan Wishart by brandishing a hammer at him, repeatedly presenting a pistol at him and threatening him with violence.
He is further accused of assaulting security manager Andrew Cannon by presenting a pistol at him.
Fleming is also alleged to have attempted to pervert the course of justice on June 27 and June 28 at the hotel, at Gleneagles train station, addresses in Glasgow, Perthshire and London.
Fleming faces further charges alleging while acting with others, he was involved in the reset of motor vehicles.
He is also accused of breaking into houses in Buchanan Gardens and Middleshade Road in St Andrews and stealing jewellery and other designer items.
Fleming has lodged a special defence of alibi maintaining at the time of the hotel robbery he was in Parkhead, Glasgow.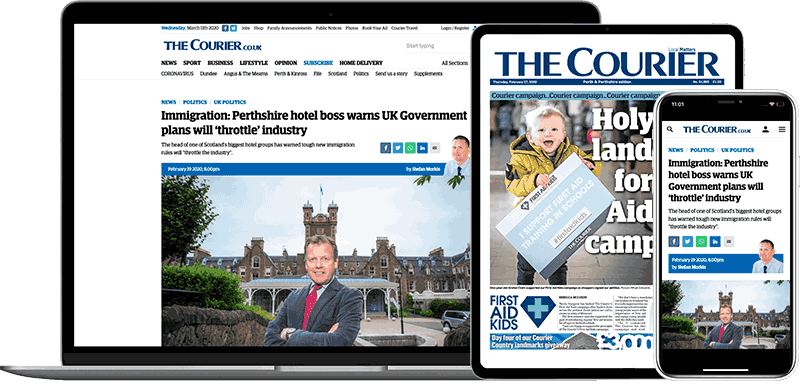 Help support quality local journalism … become a digital subscriber to The Courier
For as little as £5.99 a month you can access all of our content, including Premium articles.
Subscribe