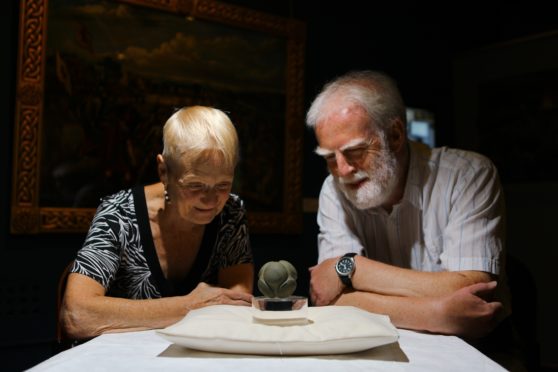 A 4,000-year-old stone artefact was unveiled at Perth Museum and Art Gallery on Wednesday following a successful fundraising attempt to bring it to the Fair City.
The Sheriffmuir Ball, which is though to date back to around 3000 – 2500 BC, is a decoratively carved round stone from the neolithic period that was discovered in 2017.
Little is known of the ancient relic's origins. It was unearthed on Sheriffmuir and allocated to the Perth museum through Scottish Treasure Trove legislation as long as the finder's fee and other expenses of  £1,625 could be met.
Members of the Perthshire Society of Natural Science (PSNS) and local archaeologists took up the challenge and raised enough funds in under four weeks to keep the stone in the Fair City.
Margaret Borland-Stroyan, archaeology president of PSNS, said: "It was amazing. People just kept putting in the donations.
"Anyone who has ever seen a stone ball will have been excited by the artefact.
"They just fit in your hand and if people know about the Perth balls they will have been very excited."
About 550 stone balls have been found in Scotland with the Sheriffmuir find the most southerly discovery to date. The site was just a few metres away from another of the relics which was found in the 1930s.
The stone carvings are a primarily Scottish phenomenon with less than 10 others found outside the country, in Cumbria, Northern Ireland and Norway.
Dr Tom Ryan, past president of PSNS said: "One of the great things about them is that no one knows what they are.
"It's one of the great mysteries of archaeology."
The science society's current president, David Bowler, said he was thrilled the ball had remained in Perthshire.
David said: "It's important for this stone ball to be in Perth because it is the area of Scotland it was found and it lets people know that new discoveries are still being made in our area."
Mark Hall, the collections officer for Perth Museum and Art Gallery and the areas expert of the neolithic balls, said the Sheriffmuir find was a prime example of the artefacts because it was so well preserved.
He believes the balls may have been a symbolic ceremonial object that people used to hold debates or at other public meetings.