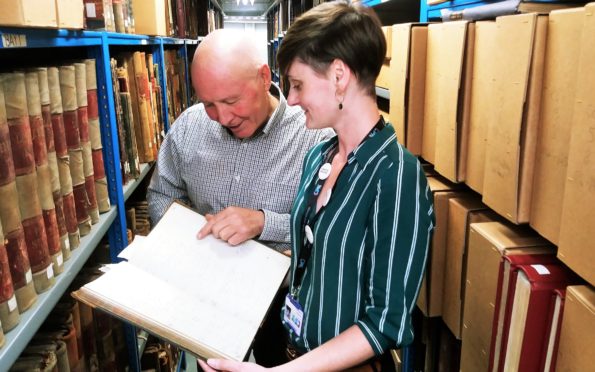 The discovery of a century-old accounts book has shed fresh light on the life and career of famed Perth photographer Magnus Jackson.
The ledger was found among paperwork in the bowels of the city's AK Bell Library.
It reveals a rich source of new information about Jackson's studio between 1891 to 1897, detailing the services provided to customers and prices charged.
Amongst the local clientele was the famous artist John Everett Millais, who regularly sought Mr Jackson's services for copying and framing his paintings.
It is understood he occasionally used photographs as source material to aid his paintings.
The ledger also reveals more detail about scores of Jackson's glass plate negative that are housed in the Perth Museum and Art Gallery. For example, Jackson charged 7 shillings and sixpence for photos of the old Campbell's Dyeworks on St Catherine's Road.
The book was found by Roben Antoniewicz, who was carrying out research in the library archives. He spotted the ledger amongst files for Perth chartered accountants Arthur Young, Maclellan Moores and Co.
Magnus Jackson and his three children were well-known photographers in Perth in the last half of the 19th Century.
Museum collections officer Paul Adair said the book offered new insights into the family's work.
"The ledger cover the last few years prior to the tragic suicide of Magnus Jackson Junior, the last family member to operate from their premises at 62 Princes Street," he said.
"We are fortunate to have a good account of Jackson Snr's photographic approach, but this exciting find gives a new insight into the operation of the business.
"With further research, it should be possible to cross reference with some of the actual negatives held in the museum, giving information on the date, client and services provided."
He added: "It's wonderful that Roben's perseverance has paid off, resulting in such a significant find.
"I'm often curious to know if other records, or even Jackson's original photographic equipment, are out there somewhere."
Ishbel MacKinnon, senior officer at Perth and Kinross Archives, added: "We are thrilled that Roben as made this important discovery.
"It is very exciting when researchers discover previously unknown records such as this, which reveal new insights and provide a deeper understanding of our local history."