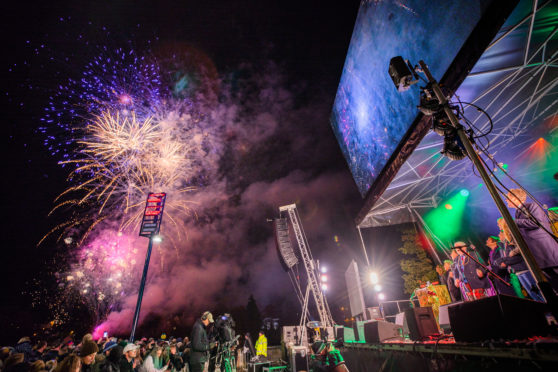 Council bosses have refused to reveal how much public cash was spent on celebrities at this year's Christmas lights extravaganza.
Atomic Kitten, Nina Nesbitt, Basil Brush and X Factor star Chico were among the acts that performed at last weekend's switch-on ceremony.
The glitzy event draw nearly 100,000 people into the city centre and is thought to have generated about £2 million for the economy.
However, the local authority has blocked by a bid by The Courier to find out how much money was spent on this year's acts.
The council said it wants to keep financial details under wraps until a wider study – assessing the full economic impact – is ready to be published next year.
The authority's Freedom of Information office refused a request for a breakdown of performance fees, claiming that it could be "disruptive" to council business.
It comes despite the council being ordered to release details of the 2015 event following intervention from Scotland's Information Commissioner.
A spokesman for the FOI office in Perth said: "This information is to be considered as part of the Perth Winter Festival Report for the Environment and Infrastructure Committee in March 2020.
"The disclosure of this information would satisfy the general right to access to information, but would be likely to have a significant disruptive effect on the way in which the council conducts their business and this has to be taken into consideration."
He added: "The members of the committee are expected to consider the development and implementation of the 2019/20 Perth Winter Fesrtival along with its estimated impacts.
"I do not consider that the public interest would be served by the disclosure of (this) information."
Four years ago, the council tried to keep its £20,000 fee for Mysterious Girl singer Peter Andre a secret, claiming releasing details would be a "breach of confidence".
Following an appeal, the information commissioner ruled artists' fees should not be exempt from disclosure – despite the council's protests at the time it could jeopardise future shows.
A local authority spokesman said he was unable to comment on the Freedom of Information request, but added: "While we do not have the specific details of the economic impact for the weekend yet, we are extremely confident that it will have met – if not surpassed – last year's economic boost of £1.9 million over the weekend."
He said: "Whilst we acknowledge that there is a financial output to hold such a high quality event, we believe the return on investment in terms of the number of people it brings to the city, the boost to the local economy and the boost to the profile of the city, means that this investment is more than worth it."