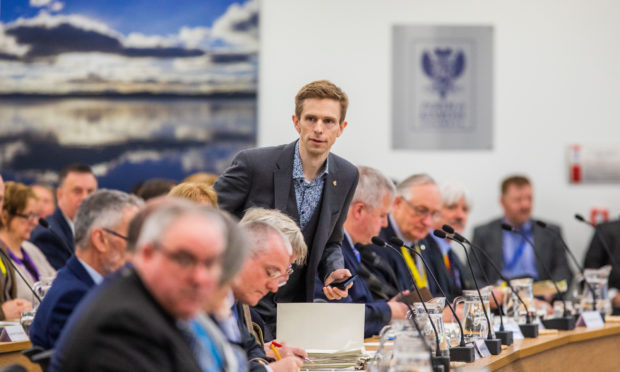 Councillors will vote on whether more than 250 local authority employees are to be given an early pay rise to meet the real living wage.
Due to Perth and Kinross being an accredited Real Living Wage employer, the lowest rate of pay for staff will rise to £9.30 per hour in May.
A motion will be tabled on Wednesday to implement the change immediately and backdate payments to the beginning of November 2019. Councillors will have the option to debate the matter and then make a ruling.
The idea is being put forward by Labour's Alasdair Bailey and independent councillor Xander McDade, who believe that the £26,000 investment would show a "strong sign of gratitude in the run up to Christmas" to the 262 on the pay rate.
It comes as the duo look to offer support for increasing transport costs and private rents.
Mr Bailey said: "The increase to the Real Living Wage to £9.30 per hour was announced in early November. Perth and Kinross Council is an accredited Real Living Wage employer and would therefore normally pass this increase to our 262 people who are on this rate effective May 1, 2020.
"However, I believe strongly that since this rate is calculated based on increases in rent, transport costs and council tax bills that have already hit people's pockets, the right thing to do is to pay it with effect from the date of announcement.
"I hope that colleagues on the council will again agree to this as they did in 2018.
"It will be fantastic if we can give the council's workforce a strong sign of our gratitude to them in the run up to Christmas by offering this increase to the 262 eligible people six months early."
The proposal has the backing of trade union GMB Scotland.
Organiser Helen Meldrum said: "This is a welcome development. It also shows that politics is all about choices and the lowest paid in PKC will be hoping this motion is passed for Christmas.
"Let's also be clear that this is a necessary intervention too. After a decade of austerity, the lowest paid in local government, and predominantly women, need work to pay.
"So this is the right thing to do and it should be ratified without hesitation."