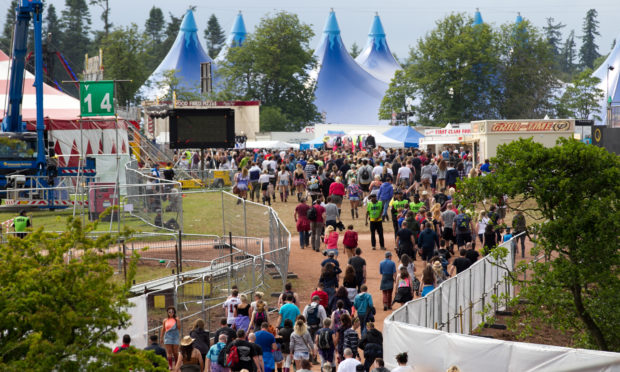 A thriving small music festival which has been based in the west of Scotland will move to Strathallan Castle this summer in a bid to follow in the footsteps of T in the Park.
MugStock has found a new home at the Perthshire castle and the 2020 festival will take place on the estate from July 31 to August 3.
The music festival takes its name from Mugdock Country Park near Milngavie, where the festival began life in 2015.
This years line-up was headlined by Scottish folk stars Tide Lines and acoustic dance stars Showhawk Duo.
Festival managers say the move allows them to "greatly enhance festival goers' experience" by utilising the considerable infrastructure left as a legacy of T in the Park, which took place on the estate from 2015-16.
Earlier this year, festival guru Geoff Ellis confirmed T in the Park, which ran for decades at sites in Kinross-shire and Perthshire and pumped millions into the area would not be resurrected.
Directors are planning to use the 13th century castle as a dramatic backdrop for their new main stage and capitalise on footbridges in the fields and purpose built roads installed by DF Concerts which have been left in tact.
With a capacity of 1,500, MugStock's audience will be around 2% the size of its predecessor and as such, the organisers have warned not to expect "stadium filler" headliners.
However, visitors are promised a more intimate, relaxed, family-friendly festival experience.
Director of planning Alan Govan said: "From the festival's inception we wanted to ensure that MugStock was a festival for all ages.
"Nearly a third of our audience have been 12 and under every year, and we offer discounts to over 60s, and many other concessions, because we believe that the more inclusive we can be the more fun everyone will have.
"MugStock's mission is to make people happy. We have always set out to create a safe, authentic, and uplifting environment to be enjoyed by and inspire a diverse audience.
"We'll be taking our name, our ethos, and hopefully our wonderful audience with us when we move.
"Our expansive and stunning new site allows us to offer almost everything audience members have ever asked for: being able to camp near the car park, and a site that is nicely spaced out for noise, ambience and atmosphere, but close enough together that it's easy to find each other, and to enjoy as many bands and attractions as possible."
This is the second significant music festival announcement for Perthshire next year, with organisers of Linlithgow's Party at the Palace confirming plans for a similar event at the South Inch in May.