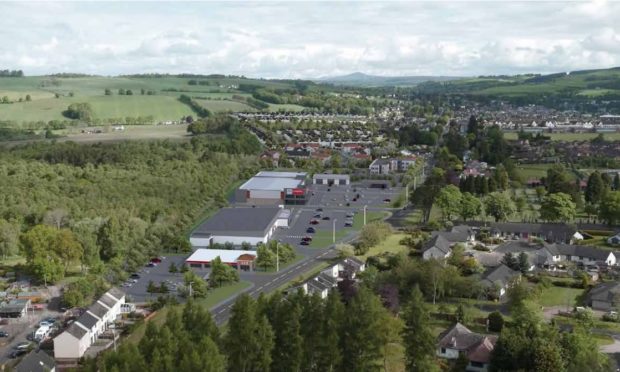 A £7 million development in Blairgowrie has been green-lit by councillors, with national outlets ready to set up shop in the area.
The Westpark Partnership retail village on the edge of the Perthshire town is expected to create 150 jobs, with Lidl and Home Bargains taking over two large units on the site alongside three smaller shops.
The project is the first phase of a masterplan which includes 400 homes, a hotel, family restaurant, primary school and neighbourhood centre.
Councillors approved the retail complex at a planning and development committee meeting on Wednesday with no politicians voting against the project.
Crucial backing for Blairgowrie retail park due to bring Lidl, Home Bargains and 150 jobs
Only one objection was received in relation to the first phase of the development but 76 people voiced their objections to the overall masterplan.
Despite initial concerns, a retail study showed the new complex would not have a significant effect on town centre traders.
Councillor Bob Brawn said: "This will make a significant difference to Blairgowrie and hopefully a beneficial one.
"There have been concerns from small business owners in the town – which are the majority of business owners in the town – but there has been some cautious optimism that there could be some material benefits."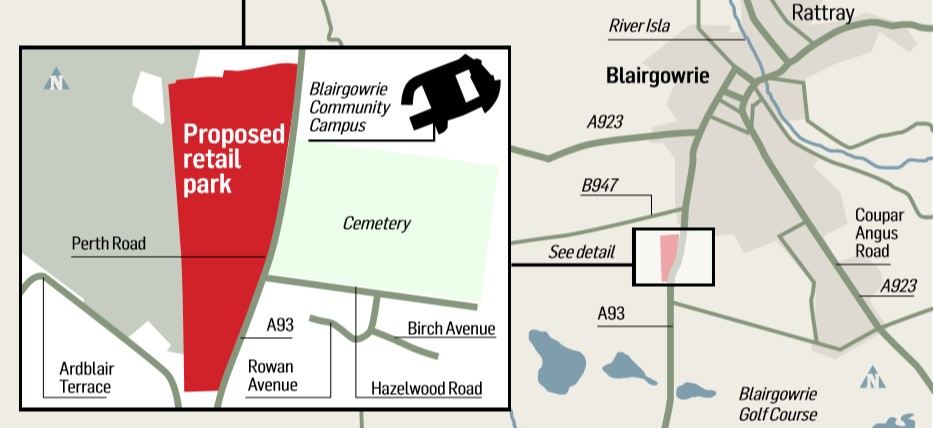 Councillor Willie Wilson backed the project which it expected to boost the local economy by preventing consumers taking their custom to Perth and Dundee.
The cumulative annual turnover for all the units combined is expected to be in the region of £16m.
Mr Wilson said: "I think this will benefit the town. It provides a good array of shops and that's a positive."
Blairgowrie councillor Caroline Shiers attended the meeting as an observer and was pleased with the outcome.
She said: "Clearly, this will be a major change for Blairgowrie and I recognise those concerns.
"I applaud the local business association who have entered into practical discussions with the developers to do what they can to link the town centre retail businesses with this new site and to keep people in the town to shop and enjoy the many places there are to eat and drink within the town centre."
There were some concerns among councillors that developers could build the first phase and walk away from the project or ask to build more retail units and less housing.
Councillor Eric Drysdale said: "I would expect that if the other phases don't proceed, for whatever reason,  that the rest of the development is used for residential instead of retail because it (the site) is meant for mixed use."