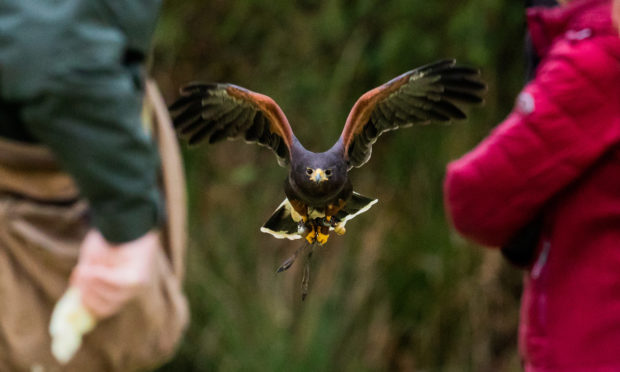 A Perthshire farm plans to train 100 racing falcons for wealthy enthusiasts in the Middle East.
An application has been submitted to Perth and Kinross Council's planning department, requesting permission to build a falconry breeding and training centre between Moneydie and Pitcairngreen.
The raptors, which sell for hundreds of thousands of dollars in the gulf states would be raised at the Moneydie Roger farm.
Falcon racing began to take off in the early 2000s in Middle Eastern countries and the birds are a coveted status symbol in countries like Saudi Arabia, Kuwait and Qatar.
Developers say the falconry base would create five full time specialist jobs immediately, with potentially five more in the future.
They add that the long term job prospects are good, since the site would be  "servicing a highly lucrative industry in the Middle East."
The proposals are to demolish an existing farm building at Moneydie Roger Farm, around two kilometres north-west of Pitcairngreen, and build four "natural pairs" sheds for the birds.
Each would contain 20 pens, equipped with perches and space for the birds to move freely when they are not being trained.
The private applicant, who has submitted his application to the local authority through estate agents Savills, says this would be enough space for approximately 100 falcons.
Also in the plans is a round pen for "hacking" – a training method that helps young falcons hunt.
The method involves keeping young birds that are still unable to fly in captivity in conditions styled like natural nests, before they are released to explore their nearby surroundings and learn to fly.
The applicant, understood to hail from the United Arab Emirates, has told Perth and Kinross Council the location has been selected because falcons perform better if bred in cooler climates, making Scotland an ideal base.
Wildlife surveyors NEO Environmental say a barn owl roosting box would have to be installed if a nearby building, which the birds use at present, is demolished.
A licensed bat ecologist was also asked to carry out a preliminary roost assessment in November.
Planners are expected to make a decision in the near future.