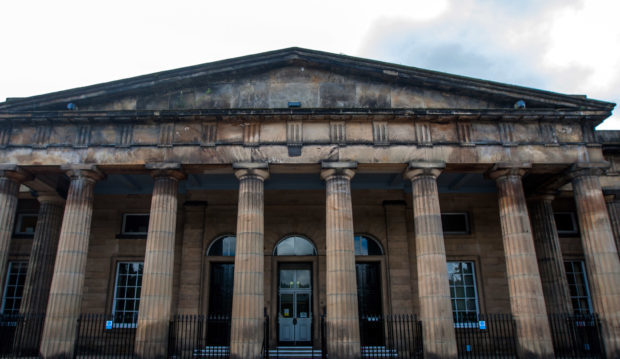 A pair of dogs which attacked and killed a pensioner's spaniel have been given a stay of execution.
Owner Jenna Whyte faces having both dogs put down after she admitted letting them get dangerously out of control.
Perth Sheriff Court was told yesterday 10-year-old Stafforshire bull terrier Busta is still to be examined by a behavioural expert.
Busta and five-year-old German Shepherd Mia launched a ferocious attack on seven-year-old King Charles spaniel, Rosie.
German Shepherd and Staffie may be put down after twice killing dogs in Perthshire
Sheriff Keith O'Mahoney deferred sentence for reports and told Whyte he was considering an order for destruction of her dogs and whether to ban her from keeping pets.
Whyte, 36, from Perth, admitted being the owner of dogs which were dangerously out of control when they attacked and killed a dog in Roman Road, Almondbank, near Perth, on July 8.
Perth Sheriff Court was told Whyte was walking her dogs and neither was on a lead or wearing a muzzle when they attacked.
The court was told the spaniel was being walked by Richard Guthrie, 34, for his 65-year-old father-in-law and he was unable to stop the two powerful dogs.
Whyte had been accused of failing to do anything to intervene but that element of the charge was removed by the Crown when she pleaded guilty.
Both dogs had been placed under a local authority control order but remain in Whyte's care.
Her solicitor Pauline Cullerton said: "They are subject to a control notice from the local authority, for them to be muzzled and on a lead when out.
"She no longer walks them locally in Almondbank but she now takes them elsewhere for their exercise."
Depute fiscal Michael Sweeney said he had been given a police memo which made reference to a previous incident involving Mia in September 2018, although it did not lead to a criminal prosecution.
Sentence was to establish Whyte's compliance with that order and for Busta to be assessed.