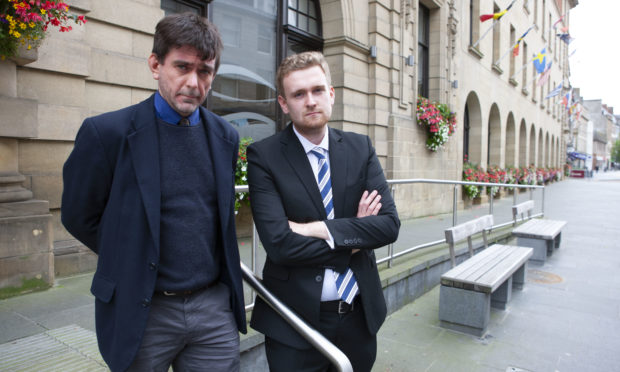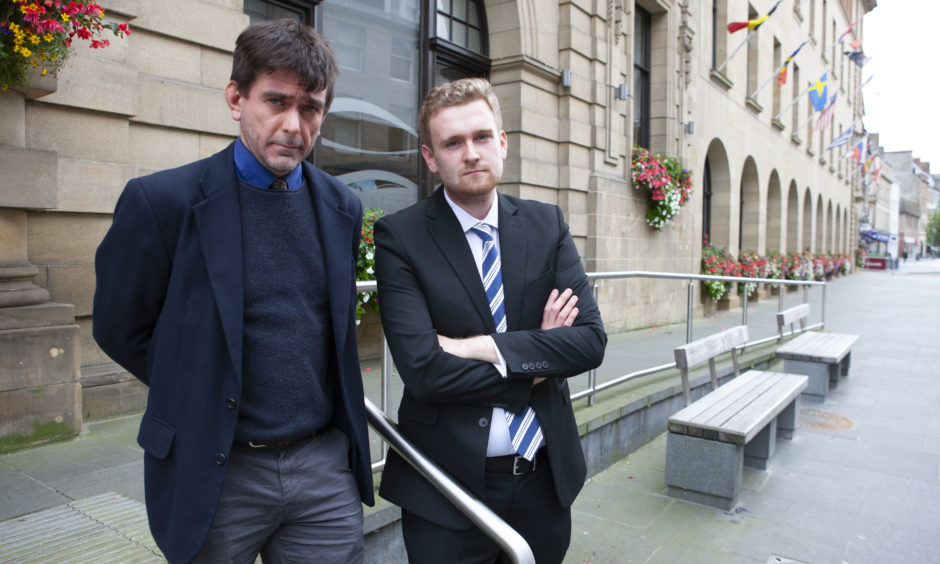 Two renegade Tory councillors who were suspended in a bitter feud that fractured the Perth and Kinross administration have been cleared of wrongdoing.
Callum Purves and Colin Stewart were ousted from the Conservative group after allegations of bullying and intimidating behaviour were raised following a chaotic health board meeting last summer.
The councillors have always refuted the allegations which were submitted by, amongst others, council leader Murray Lyle, Chief Executive Karen Reid and Provost Dennis Melloy.
A lengthy investigation by the Commissioner for Ethical Standards in Public Life (ESC) has ruled the pair did not breach the councillors' code of conduct.
An interim suspension against Mr Stewart, who represents the Strathmore ward, has been lifted.
The councillors, who represent Strathmore and Kinross-shire, said they were pleased with the outcome but criticised the time and money spent investigating the complaints.
Mr Lyle, who said in August that the pair would be "welcomed back" if the allegations were unfounded – adding "I find that unlikely"  – declined to comment. He is now facing calls to "consider his position."
Mr Purves and Mr Stewart were suspended after a meeting of the Health and Social Care Partnership Integration Joint Board collapsed into chaos in July.
Members of the public who attended to hear details of a damning report on mental health services, were told the meeting would be in private. When they refused to leave, senior members of the board walked out instead.
It was alleged Mr Stewart had "deliberately engineered" the situation to bring the council and its officers into disrepute.
Mr Purves said: "I am obviously delighted by the outcome of these investigations that confirm what we have said all along.
"I am disappointed, however, that such an inordinate amount of time, effort and taxpayer money has been spent on dealing with these complaints."
He added: "We were simply trying to do our jobs as board members and councillors and ensure that decisions are taken in an open and transparent manner.
"Now that an independent body has dismissed every single one of these complaints, local residents can make up their own minds about why some of these complaints were made."
Mr Stewart added: "We have only ever acted in the public interest and in line with our duty as councillors and board members to uphold the principles of openness and transparency."
Mr Stewart and Mr Purves maintain they are still Conservative councillors but now form part of the opposition.
Their suspension led to a political imbalance that ended the Tory-Lib Dem coalition, with the Conservative group deciding to continue as a minority authority.
Independent councillor Xander McDade, also a member of the IJB said Mr Stewart should be re-instated to his positions on council committees "with the same urgency" that he was removed at special council meetings last year.
"It is hard to see how the public can have confidence in the leader of the council, given his actions and comments around this situation, and I think he must now consider his position," he said.
Councillor Grant Laing, leader of the local SNP group, said: "Questions will now be asked of the Tory group leader Mr Lyle's leadership, and comments he made in public about the situation whilst he suspended two of his Conservative colleagues before the outcome of this investigation concluded,.
"It is regrettable that the council leader was unable to lead a robust internal complaints process with mediation where possible.
"Whilst not agreeing with councillors Purves and Stewart in a political sense, I give them credit for working seriously at the job and feel that the decision to suspend them from the Tory group may have been influenced by and because of internal Tory group issues."
A Perth and Kinross Council spokesman said: "The council is aware that the Ethical Standards Commissioner has set out there was insufficient evidence for a number of complaints raised."