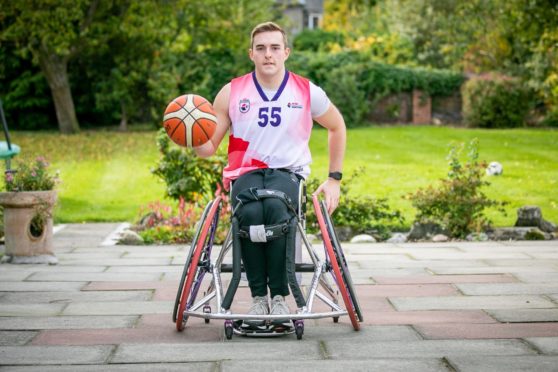 A Perth College student and wheelchair basketball player has been recognised with a sporting award.
Ben Leitch, 18, was presented a Sporting Blues Award for his outstanding talent in wheelchair basketball.
The Sporting Blues Award is presented by the University of the Highlands and Islands and the Highlands and Islands' Student Association (HISA).
It recognises the contributions of athletes connected to the university to Scottish, British or world sport.
Ben said he is "delighted" to have won the accolade.
He said: "I'm just away to begin my HND Fitness, Health and Exercise and am delighted to be recognised for my achievements within sport.
"I have been honoured to play for not only Scotland but for Great Britain. Throughout the past year, I have been able to represent various Clubs as different levels within the sport which has allowed me to have great team and individual success.
"I am currently working as a Tier One Academy Athlete with a goal being invoked in the 2024 Paralympic Games as well as the 2022 Commonwealth Games."
Ben initially played basketball but he began wheelchair basketball after an operation.
He said: "I fell in love with wheelchair basketball after I had my left tibia removed due to a rare bone cancer.
"After I struggled to keep up with the other players in normal basketball, I was then introduced to this sport.
"Wheelchair basketball shares most of the rules with normal basketball, including the heights of the baskets and the court markings."
University of the Highlands and Islands Dean of Students, Dr Iain Morrison said he hopes award winners such as Ben will inspire their fellow students.
"These honours have been awarded to some truly exceptional people, who are somehow able to combine their studies and other commitments with elite-level performance and competition in their sporting discipline.
"We are proud of each one of them and hope that their success will inspire their fellow students to similar heights", he said.
HISA President, Florence Jansen added: "HISA is proud to be able to celebrate our students who have excelled outwith their studies, and we are especially proud of the positive change our students' commitments have brought to their development and future careers."