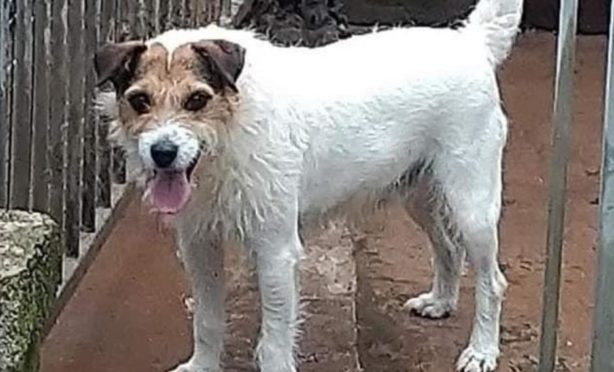 A man is due in court in connection with a spate of dog thefts in rural Perthshire.
Man due in court after alleged dog thefts in rural Perthshire
A 38-year-old is expected to appear at Perth Sheriff Court today in connection with recent dog thefts from homes in rural Perthshire.
He is in custody and due to appear in court this afternoon.
Four working dogs were allegedly snatched from outside their homes near Blairgowrie.
One of them, a young Jack Russell terrier, was later handed in to vets near Kidderminster, almost 400 miles away.
Detectives leading a nationwide manhunt confirmed on Wednesday night that a 38-year-old man had been arrested.
However, three of the dogs are still missing and are believed to be in the Worcestershire area.
The Courier revealed on Wednesday how owner Ally McLaren confronted the alleged thief outside his family home in Meikleour. He told how the man picked up Mr McLaren's two-year-old Jack Russell Terrier, bundled it into a car and drove off at speed.
Police said the incident was linked to the theft of three more dogs at another remote property in Forneth, just a short drive away.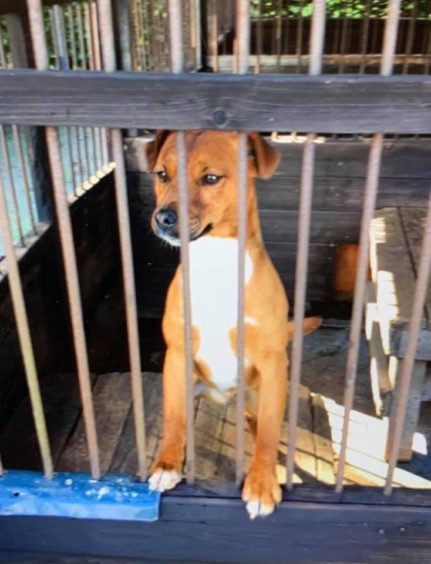 The car spotted at Meikleour, which The Courier understands was recently bought in Blairgowrie and was uninsured, was later found abandoned in a field near Rattray.
On Wednesday afternoon, it was confirmed that one of two Jack Russells taken from Forneth had been delivered to a vets in Bromsgrove, a Worcestershire village about 13 miles south of Birmingham.
Hunt for masked stranger who snatched Jack Russell Terrier from outside owner's Perthshire home
Efforts are now being made to reunite the dog with its owner. There was no news of the other three dogs.
Morag McLaren, mother of Ally, said the family was still waiting to hear what had happened to their Jack Russell terrier. She said police were searching for the three remaining dogs around Kidderminster.
Strathtay councillor Grant Laing said the thefts had caused great concern to locals.
"It's absolutely shocking," he said. "These properties were just a few minutes from each other, but they are both very remote. It's not like someone would have been passing and spotted the dogs outside."
All of the stolen dogs were microchipped.
Local pet owners were warned to stay vigilant and not to leave their dogs outside shops.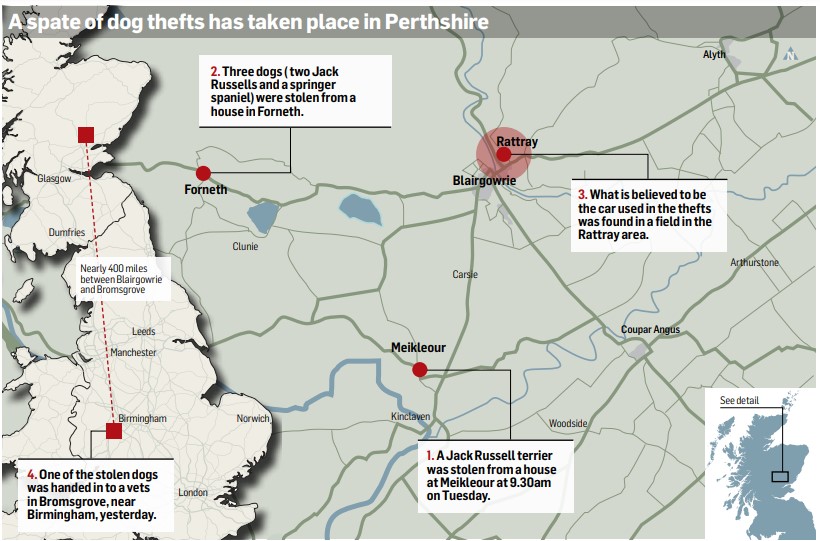 The first dog was taken from Mr McLaren's home at Meikleour at around 9.30am on Tuesday.
Video taken by Mr McLaren of a car leaving his property went viral on social media and led to a sighting of the vehicle in a field at Rattray.
Police said the theft of two Jack Russells and a springer spaniel from a hillside home in Forneth was reported at 7.50pm.
"We believe that this incident may be linked to the previous dog theft in Meikleour," a spokeswoman said. "Enquiries are ongoing."
The cases came hours after reports of attempted dog thefts in Aberdeen emerged on social media. However, police in the north-east dismissed the allegations in a social media posted, insisting that "to date, we have received no reports of any stolen animals."