VIDEO: Poignant Remembrance ceremony at Perth's first war memorial
By
Jamie Buchan
November 7 2020, 7.52am
Updated: November 7 2020, 8.55am
Perth's first war memorial has been revealed, ending a century-long "insult" to fallen veterans.
An official unveiling of the new monument beside St John's Kirk was due to take place on Friday morning but was called off amid pandemic restrictions.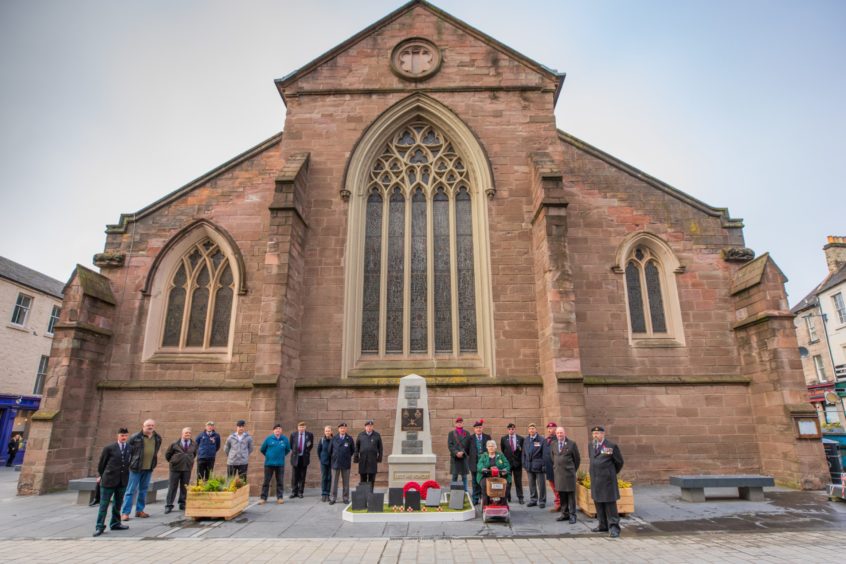 However, the wraps were taken off to allow dignitaries to lay wreaths to mark the first of this year's Remembrance events.
The new memorial was installed after a hard-fought campaign by the Association of Perth Veterans. It represents the first dedicated monument in the city to cover all three armed services and all conflicts.
Video of the unveiling is above this article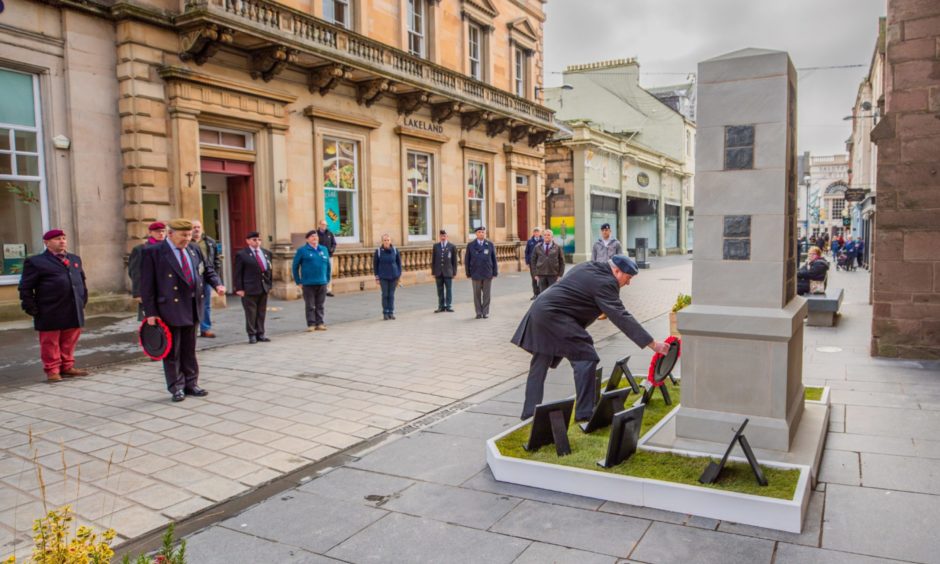 Until now, Fair City remembrance ceremonies have been held at the Mercat Cross, outside St John's Shopping Centre.
Colonel James MacRae, 79, who served in the Black Watch parachute regiment and has been working on the campaign with the veterans' association, said: "Perth has never had a proper war memorial.
"At Remembrance, wreaths for the fallen have been laid at the Mercat Cross in the city centre. This is not a war memorial, it was erected in 1913 in memory of Edward VII and the practice of laying wreaths there was an insult to our war dead."
He said: "Over the years, various organisations and individuals have tried to get a memorial built but failed. It is only due to determination and persistence of the members of the Association of Perth Veterans."
A bronze plaque on the memorial bears badges from the navy, army and air force alongside the inscription: "Erected in remembrance of all men and women of HM Armed Forces who have the ultimate sacrifice of our country. At the going down of the sun and in the morning, we will remember them."
Mr MacRae said the monument was in an ideal location and would become a focal point for future ceremonies.
Among those who laid the first wreaths was Councillor Chris Ahern, who previously served in the Royal Air Force and is now Perth and Kinross Council's armed forces champion.
He said he was pleased Perth now has an "over-riding memorial for all conflicts past, current and future."
Across Perth and Kinross, Fife, Dundee, and Angus, usual Remembrance Sunday services have had to adapt to current social distancing regulations.
Unlike previous years, there will be no military or civic parades in Perth city centre on Sunday.
A shortened service will be held in St John's Kirk, with attendance being limited to a small number of invited guests.
The decision was taken under current coronavirus restrictions, which state no more than 50 people will be allowed inside the kirk at any one time.