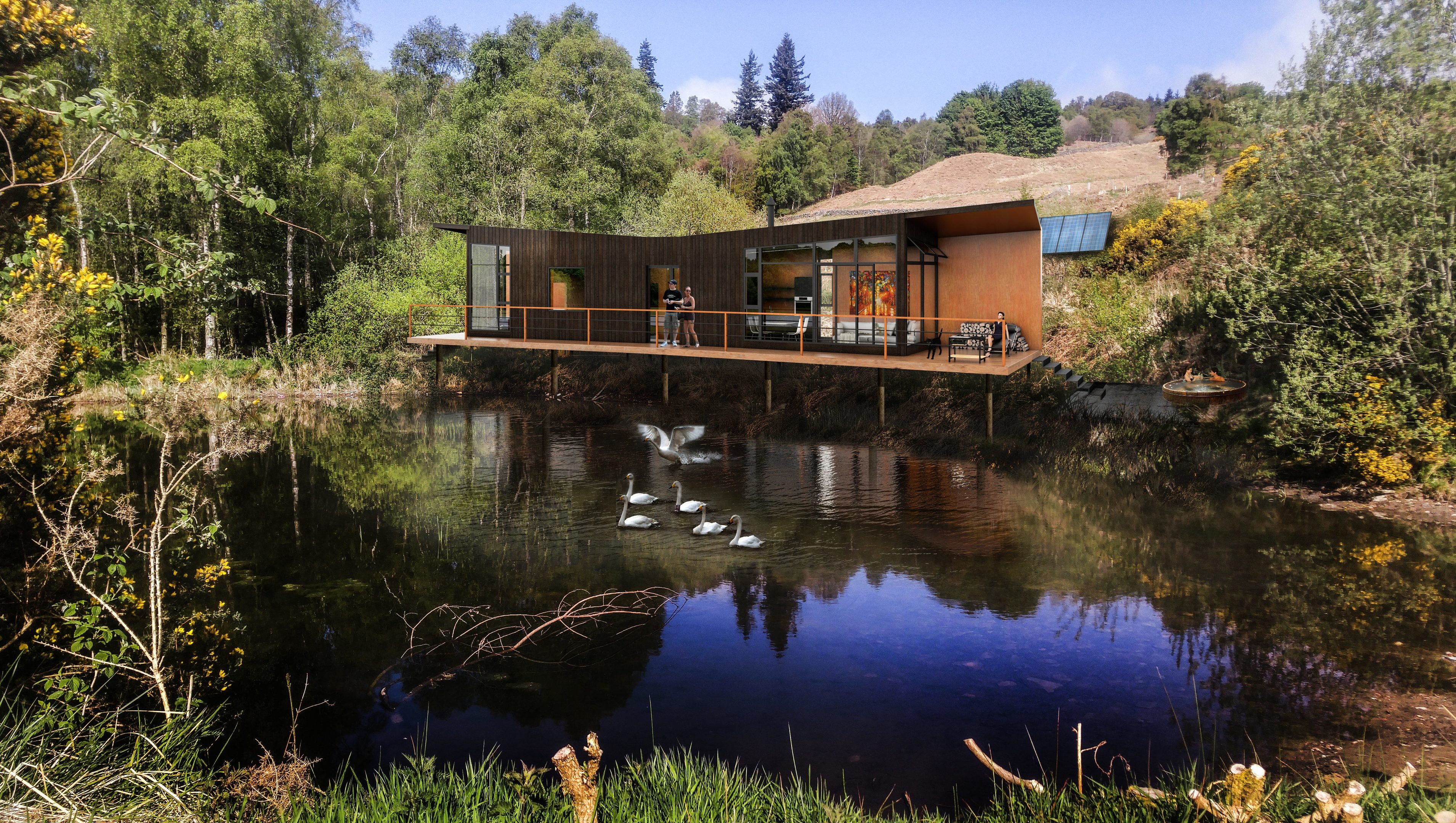 A prototype eco cabin inspired by Perthshire's bronze age crannogs could revolutionise tourist accommodation, claims the designer.
Entrepreneur Fiona van Aswegen has joined forces with Comrie Croft, an award-winning community-owned eco farm, to launch a crowdfunding campaign to build the world's first "go anywhere" 100% off-grid renewables cabin.
Inspired by ancient dwellings, the Kranôg brings together existing green off-grid technologies to create a luxury cabin, using renewable energy and rainwater. There will be no need for a mains connection, no waste, no pollution and no bills, says the designer.
The design is modular and doesn't need intrusive foundations, so can easily be located anywhere using standard farm machinery and falls within "light touch" mobile-home planning and building regulations.
The hope is that it will open up new possibilities for rural and remote communities to earn a living from ecotourism without spoiling the landscape and environment.
The Kranôg is being designed and built in Scotland and will have a lifespan of 80 years.
Fiona van Aswegen explained the project's beginnings saying: "Following three years of research and independent testing, a two-bedroom prototype is ready to build and Comrie Croft offers the ideal location where every aspect can be tested in the real world.
"We are really delighted with the early response to the crowd-funding, with people from all over the world joining the campaign."
Andrew Donaldson, founder of Comrie Croft added: "The Kranôg is designed to change the world of holiday accommodation.
"On one hand it challenges guests to think about how they use resources – for instance if you leave the tap running in the Kranôg then you'll run out of filtered rainwater and will have to manually pump more from a backup source.
"On the other hand we hope it could mark the beginning of the end for poorly insulated, high depreciation mobile homes and lodges."
The first prototype Kranôg will cost £150,000 to build, and while funding has been secured from partners, they still need £70,000.