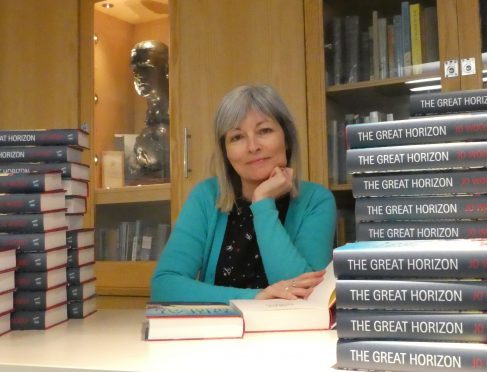 A remarkable Perth-based archive was the source for a new book of inspiring tales about the world's bravest explorers.
In The Great Horizon, Jo Woolf, the writer-in-residence with the Royal Scottish Geographical Society (RSGS), recounts some of the most exceptional tales of "derring-do" from the last 300 years.
Featured in the book are stories about some of the world's most famous explorers, such as Sir Ernest Shackleton and Sir Ranulph Fiennes, as well as lesser known feats of grand adventure from the likes of Isobel Wylie Hutchison, Karen Darke and Hubert Wilkins.
Also included is a feature on Craig Mathieson, one of the current RSGS explorers-in-residence who, in 2004, led the first dedicated Scottish expedition to the South Pole, man-hauling his sledge 730 miles over the Antarctic continent.
The author returned to RSGS headquarters in Perth for the launch of the book.
She said: "I have been repeatedly amazed, moved, entertained, and uplifted by these stories: the definition of exploration itself may have been reshaped somewhat over the decades, but the courage and enduring spirit of explorers is still the same.
"Having spent the last few years digging around in the archives of the RSGS, I want to share some of these extraordinary tales in The Great Horizon."
Mike Robinson, RSGS chief executive, told the audience at the launch:  "Our writer-in-residence, Jo Woolf, has dug deep into the RSGS archives, unearthing some truly fascinating stories from some of the world's most famous explorers.
"However, perhaps some of the most remarkable tales – verging on unbelievable – come from those who you may have never heard of.
"We hope that the wonderful insights and vignettes in Jo's book will encourage people to want to learn more about these great men and women, and perhaps inspire people to head into the outdoors on their own grand adventures".
The Great Horizon is published by Sandstone Press.