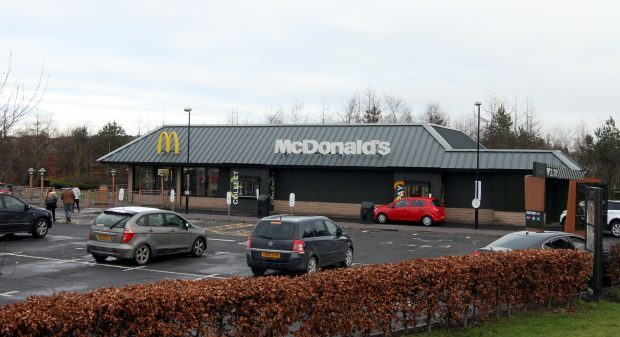 Customers looking forward to eating a breakfast wrap or a burger at one of Perth's fast food restaurants will soon enjoy visiting an 'up-to-date' refurbished building, it' been claimed.
Perth and Kinross Council have approved the proposal by McDonald's for their site at Broxden, which will result in a new 'folded' roof, improved operation of its 'drive-thru' service and increased parking.
The company decided to embark on the upgrading of its eatery, which is located just off the Broxden roundabout on the outskirts of Perth, due to the current 'drive-thru' operation only being managed on what they term an "ad hoc basis," along with a general feeling that the building needed a new, "fresh" look.
In a design and access statement that was submitted with the application for the extension and roof changes, McDonald's state: "The application includes a reconfiguration of the drive-thru lane and access, to introduce side-by-side ordering at the existing McDonald's restaurant and a new roof design, with dining area and back of house extensions.
"The new concept attempts to re-invent the older look of this restaurant and bring it up-to-date with this new folded roof concept and improve the overall operation of the drive-thru lane."
The statement concedes that the current drive-thru operation operates with two staff members using hand-held computers taking orders from customers in parallel – one vehicle in front of another.
"The intention of the alteration of the existing parallel process is to streamline the ordering process during peak trading times, without the need to have staff outside of the building," the statement adds.
"This will also assist in reducing the length of the potential queue by increasing the speed of preparing the orders and thus reducing congestion within the site during busy periods."
The reconfiguration of the drive-thru lane will include building a new island and introducing new kerb lanes.
McDonald's state that the refurbishment of the building will also provide an extra nine parking spaces.
"The building will change minimally in shape and size, yet simply adopt a fresher more contemporary facade in keeping with the site and its surround," the design statement says.
Perth and Kinross Council approved the refurbishment plan, stating the proposal complies with their development plan. However, they have attached a condition to their approval, stating that McDonald's must install a new beech hedge to be formed along the south boundary of the drive-thru lane.
The local authority want this done to "safeguard" the character and appearance of this part of Perth.