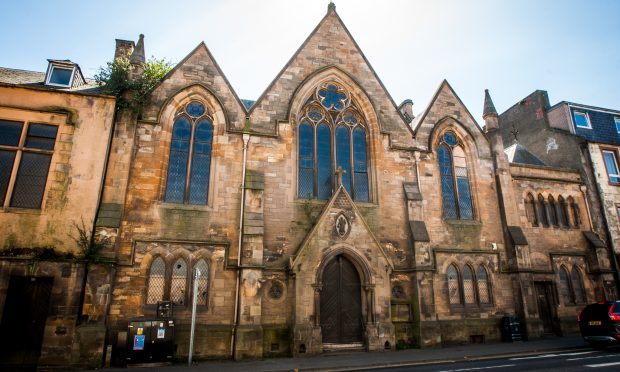 The YMCA is pressing ahead with its plan to bulldoze a landmark Perth church, despite concerns from Scotland's heritage watchdog.
The charity has revived a controversial bid to tear down the 130-year-old St Andrew's and St Stephen's Church in Atholl Street and clear the way for a new operations centre and 21 flats.
The Y Centre project also involves demolishing a rundown tenement block on North William Street.
Plans were originally submitted to Perth and Kinross Council early last year, but they were withdrawn after concerns raised by Historic Environment Scotland (HES).
The organisation said at the time: "The removal of these buildings would be a significant loss to Perth's historic centre and we would continue to encourage the full consideration of alternative options."
Jill McGrath, chief executive of the YMCA in Perth said: "The proposals have been updated to address minor concerns the planning department had with the articulation of the proposed flats and Y Centre.
"Key architectural features contained within the existing corner Georgian tenement have now been incorporated into the new proposals along with a partial façade retention of the dominant church entrance stonework and the door onto Atholl Street now forms the new entrance into the YMCA's Youth Centre."
She added: "The centre will be of great benefit to young people, organisations and the local communities of Perth and Kinross, leaving a lasting legacy for generations to come."
In paperwork lodged with council planners on behalf of the YMCA, Fouin and Bell Architects said other avenues to retain the building had been exhausted.
"Sadly, the previous 15 years of limited repairs and a constant striving to provide possible options for the re-use of the existing buildings and/or look for possible sources of grant assistance, partnership funding… have served to illustrate the point that an economically viable solution for the repair and restoration of the existing buildings is not forthcoming," a spokesman said.
A HES spokeswoman said: "Perth and Kinross Council consulted us on new proposals for the demolition of the existing YMCA buildings. We are reviewing this information and will respond in detail to the council by the end of January."
The church, which is owned by the charity, is on the official buildings at risk register and has been described as unsafe and unstable.
If approved, the new flats – a mix of one and two bedroom apartments over three storeys – will be run by the Caledonia Housing Association.
The group recently unveiled new social housing at the former Caledonian Road School.