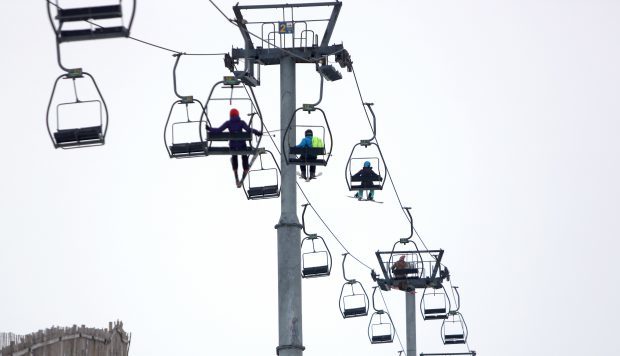 Glenshee is already heading for a vintage year, with more snow forecast in the coming days.
Skiers and snowboarders have enjoyed "superb" January conditions,  with all Scotland's resorts attracting thousands of  winter sports enthusiasts to the slopes in recent weeks.
All the indications are that 2017/2018 could be remembered for the right reasons by the skiing industry.
Chair of marketing partnership Ski-Scotland Andy Meldrum said: "We predicted that, following a disappointing season last year, there would be good snow this winter.
"Great snow and weather conditions in early January brought out skiers and snowboarders who'd been frustrated last season. It's almost like there's a pent-up desire to come sliding at one or other of our five mountain resorts."
That demand has been reflected in skier numbers, recorded as "skier days" by the snowsports resorts. Already last year's season total has been surpassed.
Results are said to be "way ahead" of the previous season (2015/16) and hot on the heels of the very successful winter of 2014/15.
The impact is felt well beyond the resorts and a successful year for Glenshee has a knock-on impact across Perthshire.
Snowsports form a significant part of Scotland's winter tourism economy with estimates that for each £1 spent at a ski area, a further £4 is spent in local businesses such as accommodation, places to eat and drink, shops and filling stations.
At Glenshee only the lower lifts were open due to fresh winds and drifting snow.
"The road is open but take care driving in the drifting snow," a spokesperson warned anyone heading for Glenshee.
All the ski centres expect an influx of people when snow sports take centre stage this month.
"We expect interest to grow as a result of the Winter Olympic Games which start in PyeongChang on February 9," said Mr Meldrum.
"Ski-Scotland wishes all TeamGB athletes the very best for the winter games and looks forward to welcoming everyone who is inspired by the games to try sliding on skis or a snowboard."