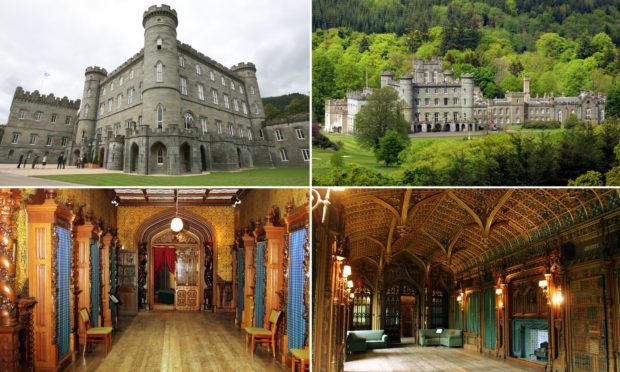 A Libyan statesman, who served under former dictator Muammar Gaddafi, is accused of stealing millions from his country's government and ploughing it into projects around the world — including the redevelopment of Taymouth Castle.
Leaked paperwork reveals that Ali Ibrahim Dabaibam used offshore companies and numerous bank accounts to channel and launder money abroad.
According to the Organised Crime and Corruption Reporting Project (OCCRP) – which uncovered the document and posted details online – Dabaibam was head of  Libya's state contracting office and is now under investigation for allegedly stealing about 20% of the value of the contracts his office handled.
Between 1989 and 2011, as director of the Organisation for Development and Administrative Centres (ODAC), he was awarded more than 3,000 contracts with a total value of 45.4 billion Libyan dinars (about £25.3bn).
It is thought he may have misappropriated more than £4.6bn worth, using techniques such as charging excessive commissions and awarding tenders to companies that were linked to him.
According to OCCRP, some of his money ended up at Taymouth Castle near Aberfeldy.
The castle was bought by a Hampshire-based business consortium for £12 million in 2005 with plans to transform it into a luxury hotel.
But progress on the building has been slow and in April this year it emerged that the main contractors Rebus Construction were on the brink of collapse.
The firm had been threatened with dissolution by Companies House following an HMRC tax probe. However, action to strike off Rebus Construction has now been halted.
The castle was last year bought by Mount Two Ltd, an offshore firm led by businessman Clynt Wellington.
No one at the castle could be reached for comment on Thursday.
A Crown Office spokesman said: "We can confirm we have received a request for Mutual Legal Assistance from the Libyan authorities.
"As this relates to an ongoing investigation it would not be appropriate to comment further."
Previous owners Meteor Asset Management spent about £23 million refurbishing the A-listed building. Last year, Mount Two received planning consent for more alterations to the property.
Two years ago, it emerged that Dabaibam may also have invested money into the Kenmore Hotel.
According to an investigation by The Guardian, the Dabaiba family have dismissed the allegations as baseless.
They maintain that they are not under investigation in Libya, and their lawyer claims they are "not wanted by any judicial, financial or security bodies".
Dabaibam is believed to be living in Istanbul.