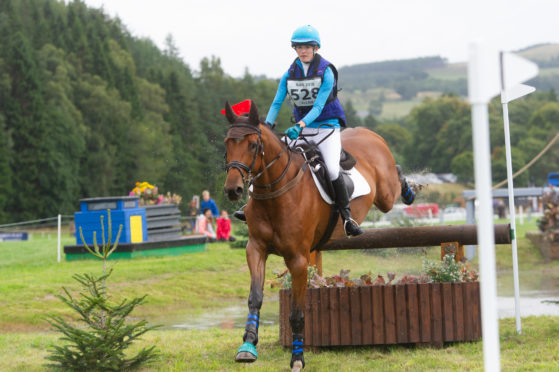 One of the big winners at this weekend's Blair International Horse Trials is celebrating a £46,000 jackpot.
Australian Christopher Burton took not just the final leg of the 2018 Event Rider Masters (ERM) series, but also the series itself.
He wins £16,000 for the leg victory and £30,000 for the series.
Mr Burton said: "I was very nervous before I set out, worried that I would do something silly like jump the wrong fence. I'm stoked the horse ran so well and it's great to have won not just the leg, but the series."
Dressage leaders Oliver Townend and Cillnabradden Evo had also lowered a show jump so needed to make the optimum to stay ahead of Burton.
"I'm thrilled, both for the horse and for his owner, Sally-Anne Egginton," said Oliver.
"He's a very special horse. He doesn't really have the gallop for this sort of going but he dug deep, and after every fence took a deep breath and picked himself up again."
The prestigious event, held at Blair Castle, attracted around 45,000 spectators and competitors from around the world. Organisers hailed the event a success, despite downpours on Sunday.
Results
Final standings for ERM series – 1 Christopher Burton, 2 Laura Collett, 3 Tim Price
CIC*** ERM Section A – 1 Bayano, Christopher Burton 2 Cillnabradden Evo, Oliver Townend 3 Camembert, Emily Philip
CIC*** Section B – 1 Tregilder, Oliver Townend 2 Brookfield Inocent, Piggy French 3 Shadow Man II, Ben Hobday
CCI* Section C – 1 Seaflower, James Avery 2 JL Dublin, Nicola Wilson, 3 G Star Van De Klinkenberg, Paul Sims
CCI** Section D – 1 Cooley Monsoon, Piggy French 2 CHF Cooliser, Tom McEwen 3 Castletown Clover, Piggy French
CCI*** Section E – 1 Pats Jester, Tim Price 2 Strike Smartly, Tom McEwen 3 Director General, Izzy Taylor
Scottish Championships BE90 Open, after show jumping – 1 Laghey Clover, Sophie Bultitude 2 Chippendale Vivaldi, Sharon Thom 3 Mr Incredible II, Morag O'Mara
Scottish Championships BE90 Open – 1 Laghey Clover, Sophie Bultitude 2 Equit, Claire Smith 3 Polly's Wish, John Hill
Scottish Championships BE90 Open Dressage – 1 Laghey Clover, Sophie Bultitude 2 Equit, Claire Smith, 3 Chippendale Vivaldi, Sharon Thom
Scottish Championships SCBE 100 Open – 1 Ballingowan Carrie, Rose Macpherson 2 Lacoste, Elspeth Bryce 3 Jay Silverheels, Jane Reid