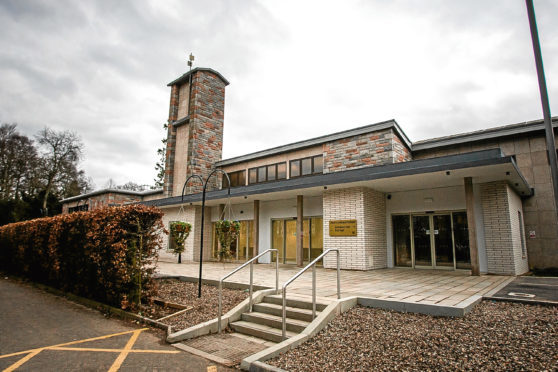 A staffing crisis at Perth Crematorium left the facility without anyone qualified to carry out cremations, it has emerged.
A former employee had to be enticed back during the summer to help with ceremonies at the recently refurbished centre.
The crematorium has had trouble hanging on to staff for more than a year, a whistle blower told The Courier.
He said the high turn-over was due to constant clashes with management, while another ex-employee claimed to be the victim of bullying.
Perth and Kinross Council, which operates the crematorium, said it has taken steps to get to grips with the situation.
It stressed that contingency plans are in place to ensure the level of service does not drop.
One former staff member, who asked to remain anonymous, said: "It's like a revolving door. Staff come and go, with barely enough time to learn their names.
"It's farcical. At the end of July, beginning of August, they were left with nobody qualified to cremate.
"They had to ask a local funeral director to 'borrow' back one of their old employees."
Another former member of staff said there was a culture of bullying at the facility.
He said several complaints put in against one member of management — who he claimed was the root of the staffing problems — had gone unanswered.
He described the staff member as "condescending" and as being on a "mega power trip".
A spokeswoman for Perth and Kinross Council said: "Perth Crematorium has seen a number of staff changes recently as a result of career progression or personal circumstances of the individuals.
"As with any service and organisation, staffing levels are important to maintain service delivery and as such contingency plans are in place to deal with temporary staff shortages.
"In this case,  service provision has not been affected by staffing levels as experienced and qualified external staff have been brought in to assist when required."
She continued: "Recruitment is currently under way for one member of staff which will bring the staffing levels back up to the full complement.
"Our contingency plans will also remain in place to bring in staff as required should there be a requirement to do so.  In this way we can ensure the full service is provided for anyone using the crematorium."
The spokeswoman added: "Perth and Kinross Council takes allegations of bullying extremely seriously. We are unable to comment on individual members of staff but would urge anyone  to report any concerns  in accordance with established council processes and procedures."
The facility was closed over the winter months as new cremator machines were fitted as part of a multi-million-pound overhaul of the site.
The centre was forced to shut again in the summer after engineers identified further work needed on the site's exterior wall.
It closed again briefly last month after damage caused by Storm Ali.