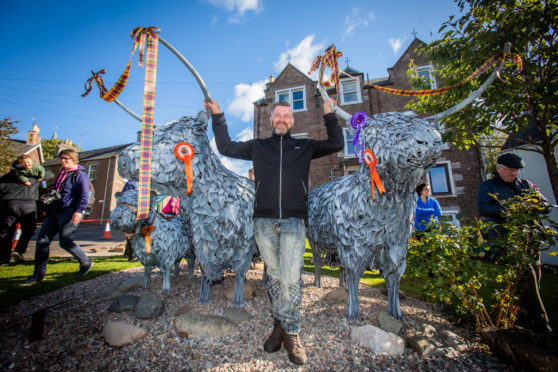 Three hundred years ago, Crieff was the cattle-droving crossroads of Scotland.
Locals marched their livestock through Perthshire, which because of its geographical position was the traditional route from the north before it headed west.
Now Strathearn residents will be able to celebrate that history with three iconic leafy "coos" in the heart of the community.
The metal thistle sculptures depicting the three animals, named Flora, Burrell and little Beagan, are located in Burrell Square, Crieff, and were officially unveiled at the weekend.
They are the brainchild of voluntary group Crieff in Leaf (CiL).
A couple of years ago, the group decided it would be an idea to erect a sculpture at Gallowhill, Crieff. They contacted an artisan blacksmith, Kev Paxton, of ArtFe, with a view to erecting the metal thistle sculptures.
Kim Osborne, chair of CiL, said: "Mr Paxton visited the site and when he turned up he had a trailer on the back of his truck with a cow sculpture on it.
"The Crieff in Leaf team fell in love with it and the project was born. It is a celebration of Crieff's Drovers' history."
He continued: "With encouragement from Perth and Kinross Council, the project expanded to a group of sculptures and moved to Burrell Square where the wicker 'coo' that was there had started to look a little worse for wear.
"Fund raising commenced in earnest at the start of the Drovers Tryst Festival last year. Crieff residents seemed to love the idea as well and we soon had people and businesses donating.
"Six months later we nearly had the required funds so the three magnificent sculptures were commissioned. They were put in place at the beginning of August.
"We must thank ArtFe for all their hard work in creating these wonderful beasts
It seemed fitting to have the official unveiling at the beginning of the Drovers Tryst 2018, exactly a year after we commenced fundraising."
A total of £30,000 was raised for the art project through grants, donations and sponsorship. Local residents and businesses in Crieff donated around £8,000 of this total.